'Our message is simple' Experts warn why you need to get your flu vaccine THIS week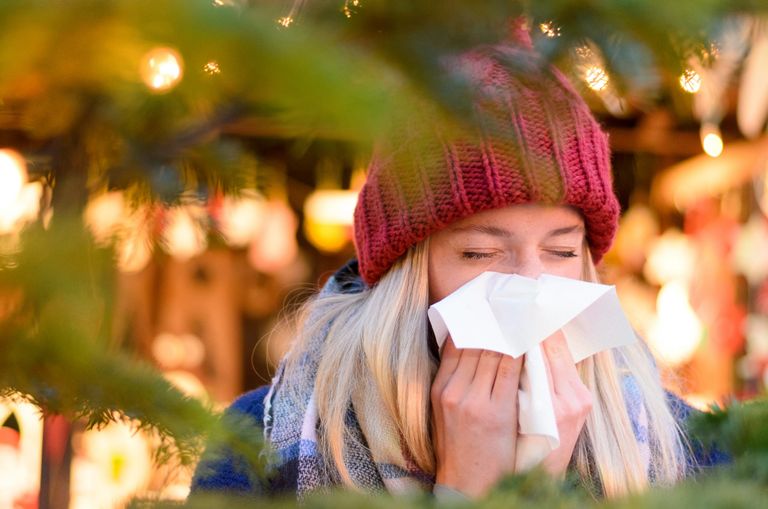 Forget prepping the turkey and shopping for those last-minute stocking fillers, experts warn getting a flu jab should be top of your Christmas to-do list.
This comes after GP appointments for flu-like illnesses spiked to almost 7,500 visits in the first week of December, with the North West of England, Essex and South Lanarkshire becoming flu hotspots (opens in new tab) after a high number of outbreaks have been reported.
And the impact on health can be serious, especially over Christmas. Having flu isn't just the same as a heavy cold. Although you'll get sneezing, a runny nose, throat irritation and a dry cough, you'll also have a high fever, shivering, bad headache and generalised muscle aching.
Uncomplicated flu lasts for around five days (which will wipe out festivities), but you may feel exhausted for a couple of weeks, dampening New Year spirits.
However, if you're in a risk group (or unlucky), flu can weaken your defences against bacterial infections, such as pneumonia, and trigger major complications that can be fatal.
"Our message is simple: the flu season is here, get your jab now," says NHS national medical director Prof Stephen Powis. "It might be the difference between a Christmas to remember and one to forget."
Children spread germs
One of the main reasons flu spreads so rapidly during the festive season is due to grandchildren visiting different homes, as children have been found to be "super spreaders" of germs.
In fact, a new survey of more than 2,000 UK parents by Share Good Times Not Flu (opens in new tab) found that two thirds of children forget to wash their hands, a further 55% pick their noses and 48% don't cover their mouths to sneeze or cough.
"This shows a clear need for parents to take action and protect their family against the flu," says TV medic and NHS doctor, Dr Philippa Kaye.
"Not only are children great at spreading flu; children under five are the group most likely to be admitted to hospital with complications of flu. Immunisation not only protects the child, but also stops them spreading it to the rest of the family. It's important to do all you can to help prevent the flu."
Can I get the jab for free?
If you fall into the categories below you could be eligible for a free flu jab at your GP surgery or local pharmacy.
Are pregnant
Are 65 or over
Have a serious medical condition
Your child is in an at-risk group (conditions, such as diabetes, serious heart conditions, underlying neurological problems and kidney or liver disease) and is aged 6 months or over
You live in a nursing or residential home
You're the main carer for an elderly or disabled person whose welfare may be at risk if you fall ill
If you don't fit into one of the groups above, then you can pay to have the flu jab privately at a local chemist, which will usually cost between £10-15.
Tips for coping with flu
Suffering? Here's how to deal with the symptoms…
Go to bed and rest – if it's a genuine dose of flu, you won't need to be told.
Keep yourself warm and drink lots of fluids throughout the day. Warm honey and lemon will help soothe your throat and cough.
Take paracetamol or ibuprofen for fever and pain. Check with your pharmacist first if you have other medical conditions or take other medicines.
Don't infect others with it – always sneeze or cough into a tissue, then bin it and wash your hands immediately.
Faye M Smith is an award-winning journalist with over 15 years experience in the magazine industry. Her continued work in the area of natural health won her the coveted title of the Health Food Manufacturers' Association (HFMA) Journalist of the Year Award 2021. Currently Health Editor across several brands including woman&home, Woman and Woman's Own, Faye specialises in writing about mental health, the menopause, and sex and relationships.