The best workouts for your age
Get moving and feel great with these workouts for women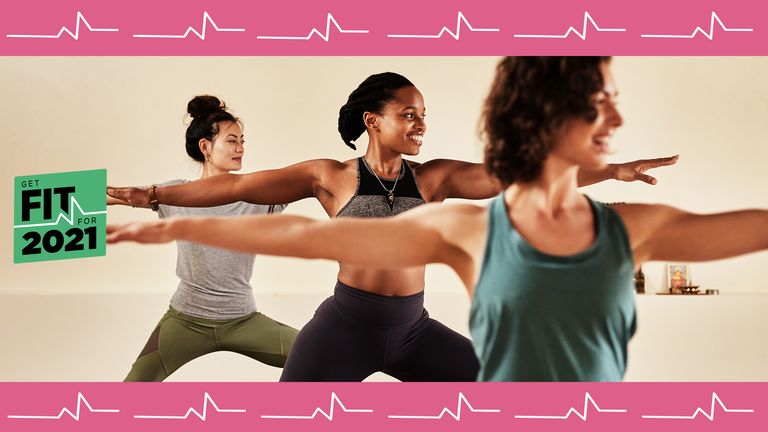 (Image credit: Getty)
Discover the benefits of exercise and the best exercises for your body, whatever decade of life you're in. These are the best workouts for women of all ages.
If you want to live longer, the science is clear: exercise. It's not just about quantity, either – the best exercises are ones that give you quality of life. Just gentle stretching on one of the best yoga mats could be enough. There are many benefits of exercise, including – according to researchers at the University of Bath – the important role it plays in maintaining a healthy immune system. As well as helping the body deal with pathogens such as viruses, it slows down changes to the immune system as we age, reducing the risk of infections.
According to the 2018 Health Survey for England, 27% of adults were classed as inactive. This means they took less than 30 minutes of moderate or vigorous physical activity per week. Inactivity levels largely increased across age groups, but it's lifestyle, not age, that takes a toll on athletic ability, muscle tone and metabolism. Sit less, move more and you'll reap the benefits, however old you are. You might not run as fast or lift as much as you used to, but start small and you'll see results. And you could even invest in one of the best fitness trackers to monitor how you go.
Benefits of exercise
Better posture and mobility
A brighter mood and a decreased risk of depression and anxiety
A reduced risk ofdiabetes, heart disease, osteoporosis and cancer
More restful sleep
A 2014 study found that women preferred to exercise for weight loss and toning, whereas men exercised more for enjoyment. However, it doesn't matter how or why you keep fit – arguably, the best workouts for women are the ones you enjoy most and feel right for your body. "It's a misconception that you need to change things drastically as you get older," says Scott Humphreys, co-founder of gym, aerial and ninja fitness studio SP Athletic. "In reality, not a lot has to change."
Personal trainer, fitness blogger and influencer Carly Rowena agrees: "I've never trained my clients by their age, more by their attitude and health. No single movement or style of exercise is out of bounds for any age group. I have clients in their 70s doing CrossFit Zoom classes from home!"
Whichever activity you pick, do it regularly and you'll soon feel the benefits of exercise. It'll improve your sleep, memory and mood, reduce stress and anxiety, and help you beat belly fat. Furthermore, evidence suggests that when it comes to weight loss, aerobic exercise may have even more of an impact on post-menopausal women than their younger counterparts. Even light physical activity like walking and gardening helps, so grab a pair of the best walking shoes for women and get moving!
Read on to find an exercise that works for you.
Best exercises for your 20s
At home: spinning
High-intensity, low-impact spin classes are ideal for women in their 20s who want to tone, burn calories, build stamina and increase cardio fitness. Stick with it and you'll really see the benefits of exercise quickly. "The great thing about home spin classes is the convenience factor," says Peloton cycling instructor Leanne Hainsby. "People want to work out, but there are often obstacles that stand in the way. Peloton is the perfect solution, as it brings studio-style indoor cycling classes with amazing instructors to the comfort of your own home. You have full control over your workout and can filter the classes based on the time you have, the instructor you want to ride with and the music you want to listen to. This is all while connecting with a community of people all over the world."
"Indoor cycling has developed rapidly and now there are possibilities online to combine indoor cycling with a full-body workout on your bike," says CycleMasters' Evelien Biever. "Indoor cycling workouts allow you to clear your head and combine fun with challenges – you can alternate scenic rides with exhilarating studio workouts with professional instructors. It's so absorbing you don't even notice you're working on calorie burning or muscle strengthening."
Invest in an exercise bike and follow streaming workouts fromPeloton or CycleMasters, or try a free class from Studio Sweat on YouTube.
Out and about: rowing
There are myriad benefits to rowing; it's versatile – you can use a rowing machine at home or the gym or row on the water – and it's calorie burning, muscle toning and an excellent cardiovascular, full-body workout. Also, while it's high intensity, it's low impact, reducing the chance of injury. Try 15 minutes (yes, just 15 minutes!) Tabata-style, which involves alternating between 20 seconds' full throttle rowing followed by 10 seconds' rest.
"Rowing is a sport that's accepting of all backgrounds and welcomes anyone who wants to give it a go," says rower and Olympic silver medallist Karen Bennett. "It's a great activity and includes many benefits: Firstly, the physical benefit of it being a full-body workout – you push with your legs and pull with your arms, while holding your core – and secondly, it's a good way to meet people who are working towards the same goal."
"At home, stretch muscles to keep them flexible, as it allows you to get into good positions when on a rowing machine or boat," advises Karen. Also, try the British Rowing Indoor workout.
"In the gym, get on the rowing machine and sit at the back with the handle touching the stomach," adds Karen. "Straighten the arms, rock the hips forward, then bend the knees, so the seat moves towards the heels. To take the stroke, push the legs straight, then open the back and bend the arms to finish," says Karen. If you'd like to try rowing on the water, Karen suggests contacting your local rowing club, which should run courses for beginners.
READ MORE: Easy wins to help you get fit
Out and about: boot camp
Your 20s are the perfect age for boot camps that involve adrenaline-pumping cardio workouts that keep things moving (and interesting) with a series of exercises, which can include kicks, lunges, planks, push-ups, pull-ups, sit-ups and squats, as well as weight training and sprints – usually to loud dance music. Boot camps help young women improve their posture and build muscle and strength, which can help to keep osteoporosis at bay in later years. Check out this eight-minute boot camp.
Best exercises for your 30s
At home: HIIT
Metabolisms tend to falter as we enter our 30s, so it can be harder to see the benefits of exercise. Kick your metabolism back into gear with high intensity interval training. HIIT combines short, intense bursts of cardiovascular activity with strength training. "Our metabolism slows as we age, but there are always ways to improve it," explains three-times Olympian and founder of Roar FitnessSarah Lindsay.
"I'm an advocate of weight training, as more muscle equals a higher metabolism and you'll burn more calories at rest. It also helps you to build up strength. The stronger you are, the more efficient you are and the less effort is required," says Sarah. "This is especially true for women, as muscle strength starts to drop off as we age. It's harder (though not impossible) to build muscle after menopause, but start beforehand if you can."
You can find a series of free HIIT workout videos, including a HIIT for beginners session, which doesn't need any equipment, at Group HIIT.
Freeletics gives you access to thousands of workouts that can be done at home, including their Hybrid Running Training Journey, combining bodyweight training with sprint intervals and distance runs to burn fat, improve running performance and increase cardiovascular stamina.
At home: hula hooping
"Not only is hula hooping fantastic way to whittle your waist and mobilise the spine, a half-hour class with a weighted hoop burns 210 calories," explains coach and fitness expert Sam Murphy. Buy your own deluxe hoop atpowerhoop.co.uk, £29.99, and follow influencer Deanne Love'stutorials onYouTube.
READ MORE: Can you still go for walks and runs during social distancing or self-isolation?
Out and about: running
"Running is a sport that many people struggle to get into, especially as you get older, but don't let your age stop you," says David Wiener, training specialist at leading fitness app Freeletics.
"Bone density peaks at 30 and therefore running is the perfect exercise to pick up in your 30s. By incorporating high-impact exercises into your workout routine, you can help prevent brittle bones, fractures and illnesses such as osteoporosis."
READ MORE: Best running shoes for women
Best exercises for your 40s
At home: weight & resistance training
"In your 40s, no movement is out of bounds. If it feels good, do it!" says personal trainer and fitness blogger Carly Rowena.
Start pumping iron on a regular basis and you'll gain less belly fat over time and really start seeing the benefits of exercise, according to a study by Harvard University. Weight training also buffers DNA against age-related damage, say researchers. This doesn't mean you should ease off the cardio, however. "I'd recommend adding in movements that really get your blood pumping and your heart rate up," says Carly, such as walking, cycling, jogging and spinning.
Health and wellbeing expert and personal trainer Jessie Pavelka, who launched a health and wellbeing app, JP4, explains, "One of the biggest reasons women in their 40s start to gain weight is because of a loss of lean muscle mass – this results in a reduction in daily calories burnt. Resistance training is a fantastic way to keep stressing your muscles and it's easy to do at home using your own bodyweight. The more lean muscle tissue you have, the more efficient your body is with calorie burn at rest. Exercises including forward lunges, tricep dips (use two chairs), jumping jacks, push-ups and squats can be done without equipment."
Get started with our beginner's guide to strength training and download the Female Fitness – Gym Workouts App (free iOS and Android), which features easy-to-follow workout videos, including weight training.
READ MORE: How much exercise do I need per week?
Out and about: open-water swimming
Aerobic but easy on the joints, swimming is a great all-rounder and you'll soon experience some of the benefits of exercise. Open-water swimming means no lane-hoggers or splashing kids to contend with, while cold water can ease chronic pain. And if you're a stressed 40-something juggling kids, ageing parents and a job, you'll also benefit from the meditative qualities of being surrounded by nature.
Open-water lifeguard, ocean advocate and founder of We Swim Wild Laura Owen Sanderson says, "I started sea swimming after suffering with fibromyalgia and stiff joints. I felt an immediate release in my joints and muscles. Getting out in nature helps clear your mind. You have to focus on your breath and the temperature, and the scenery is stunning. There's no time to worry about the mundane, it's great for resetting your batteries and is much healthier than pacing up and down back and forth in a chlorine tank."
Out and about: Nordic walking
Nordic walking is a fantastic way to get a full body workout and tone the arms. Swinging the poles as you walk engages the underused tricep muscles, banishing those dreaded middle-aged bingo wings. Nordic walking uses longer, more flexible poles than hiking poles and burns 20% more energy that brisk walking without poles. Find out more at Nordic Walking UK.
Best exercises for your 50s
At home: Pilates
Want to see benefits of exercise but don't want to put pressure on your joints? You're not alone. "As women in their 50s experience dramatic changes in their hormones, Pilates could well be the ideal exercise to help them feel better during the menopause," says fitness coach Helena Hill. "A low-impact form of exercise, Pilates is not only safe on the joints, it helps to increase bone and mineral density, as many of its exercises involve strength training. If you're experiencing any core or pelvic floor dysfunction, tell a specialist before trying at home, as many exercises can be adapted to restore and strengthen these areas."
"In your 50s, planks [a common Pilates exercise] are an extremely effective isometric exercise because they use your own bodyweight to maintain the stability of your entire core, which is exactly what the core muscles are supposed to do. This can help to prevent back pain," adds Carly Rowena.
You'll find a variety of free physiotherapist-led online Pilates classes at Pilates Live.
Out and about: pole dancing
"My mum is in the best shape of her life from Latin, ballroom and pole dancing, aerial hoop and stretching," says personal trainer and aerial instructor Abbie Ellis, who co-owns SP Athletic with Scott. "Pole and aerial are for people of any age, size and gender. No matter what age you are, the best exercise is what you enjoy doing, so it's sustainable."
If you can't make it to a class, install your own pole at home! Pole Freaks Studio has hundreds of online pole tutorial videos, with tutorials available for absolute beginners to advanced.
Out and about: tennis
Not only is tennis an excellent aerobic activity, the lunging, reaching and sprinting involved makes for a firmer bottom. It's also a great way to meet new people and socialise at a time when your children may have flown the coop or you're working fewer hours. Practise on free public courts or join a club, starting with a beginner or refresher course to get into the swing of things. Check out LTA for more info.
Best exercises for your 60s
At home: yoga
Want to beat brain fog? Thrice-weekly yogasessions have been found to improve recall, mental flexibility and task switching abilities in 60-somethings. "Yoga is great for people of all ages, but for women in their 60s there are many benefits," says Danny Griffiths, founder of Yoga-Fit. "The subtle breath work is a great for the nervous system and heart rate, while balancing postures are important because, as we grow older, it's balance that may lead to a fall. These help us to build strength and teach us how to correct our balance and keep steady. Yoga is also great for mobility and keeps us flexible, not just physically but mentally, too."
The popular YouTube channel Yoga with Adriene has a variety of free yoga routines for all levels.
READ MORE: Figuring out your ideal weight
Out and about: aqua aerobics
The NHS recommends that the over-65s should focus on activities that help to improve strength, balance and flexibility. Like other groups, they should do a minimum of 150 minutes of moderate intensity activity a week to see real benefits of exercise. If you're already active, it should be 75 minutes of vigorous intensity activity.
Aqua aerobics fits into the former category and helps you maintain suppleness, as water resistance is great for fostering flexibility and toning muscles. It also burns calories and offers a cardiovascular workout. What's more, being suspended in water means additional pressure isn't put on joints.
Out and about: golf
Golf may not seem very strenuous, but play regularly and you'll soon see the benefits of exercise. It helps to build core strength, tone the arms and legs and keep the waist trim. It's also a pleasant way to socialise and go walkabout outdoors. However, if you don't want to risk injury, use a coach to learn how to stand and swing correctly. You also need to know how to stretch your "non-golf" side to prevent an imbalance. Getintogolf.org is a helpful resource for finding a beginners' course and taster days.
Best exercises for your 70s
At home: wall push-ups and stair climbing
"Many seniors become fragile and vulnerable because of severe muscle loss and bone degeneration, among other things," explains fitness expert and bestselling author Wendy Ida. "As a result, they're more likely to experience a serious injury. Overall, strength training helps to alleviate symptoms of many chronic conditions."
"Wall push-ups build strength and muscle in the upper body, while stair climbing helps to build strength in the lower body," says Wendy. "It will also give you a cardiovascular workout, which helps to increase endorphins and prevent fat gain over the years."
At home: chair exercises
"As we grow older, one of the first things we tend to lose is co-ordination and balance, but it's so important to work on this to prevent falls and maintain independence," says Carly. "My favourite exercise recommendation would be forward, backward or walking lunges. These can be done easily in your home. If you feel a little unsteady, hold on to chair as you do it – you'll soon get stronger and grow in confidence."
Barbara Kobson, senior cardiac nurse at the British Heart Foundation (BHF) agrees. "Getting regular exercise is really important for maintaining good heart health and can improve mental wellbeing," she says. "However, when we spend more time indoors, it can be difficult to add regular physical activity into the day. Gentle workout routines like these chair-based exercises can build and improve strength and flexibility.
"If you have reduced mobility and want to keep active at home, then all you need is a sturdy chair. Then you can practise these exercises from your living room, desk, kitchen table or the patio. If you have a health condition, please check with your GP before starting."
Out and about: dancing (and lifting... )
Over a five-year period, regular dancing is associated with a 76% reduction in dementia risk amongst over-75s. Continue into your 80s and you may require up to 40% less pain medication. That's definitely one of the most amazing benefits of exercise.
Strictly Come Dancing pro dancer Oti Mabuse has teamed up with her fellow pro dancer husband, Marius Lepure, to offer a series of free dance classes. Look at her official YouTube channel, which includes dance techniques such as jive and samba.
However, that doesn't mean ditch the dumbbells. "What makes the most difference as you age is muscle strength," says Dr Beck of Griffith's School of Anatomy. "Lift weights twice a week and you'll develop fewer white-matter lesions and be less likely to suffer a fall."
It might sound like a daunting prospect, especially if you've not set foot in a gym before. "Don't be afraid of the gym," Scott advises. "Ask for help if you need it. Stretching and form are key to getting the benefits of exercise. Don't be shy about speaking to a trainer – that's what they're there for."