Christmas cake decorating ideas to spruce up even the plainest of puds
We've got Christmas cake decorating ideas to suit all ages and abilities. Trust us - it's easier than you think.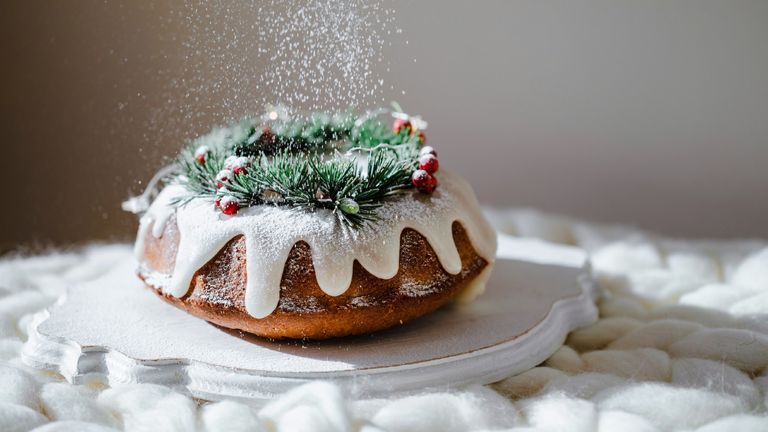 (Image credit: Getty)
Creating a show-stopping centrepiece has never been easier, thanks to our Christmas cake decorating ideas round-up.
All you need is a round cake (the flavour is up to you) topped with classic white fondant icing, and we've got everything you need to take it to the next level. The best part? They only require simple techniques and decorations that can be found in any supermarket. 
You can even cheat and buy a ready-made cake - we don't tell! 
Need more inspiration for the rest of your feast? Our Christmas starters, edible Christmas gifts and Christmas dessert ideas have got you covered.
Happy scrolling! 
How To Decorate A Christmas Cake
Start by turning your Christmas cake over so the flatter underside is the top - this makes it easier to decorate with a neat finish. 
Then, brush your cake with warmed, sieved apricot jam. 
On a surface dusted with icing sugar, roll out a layer of marzipan to the thickness of a £1 coin.
Roll up around a rolling pin, then unravel onto the cake. Smooth around the sides with your hands and guide neatly into the edges. 
Trim any excess with a sharp knife. If you want to just cover the top of the cake, cut the marzipan to size using a round cutter the same width as the cake.
Still on the surface dusted with icing sugar, roll out fondant icing to between ¼-½cm and either cut to fit the top of the cake or make sure it's wide enough to cover the whole cake.
Roll up around the rolling pin, brush the marzipan layer lightly with water then unravel the icing onto the cake. Smooth and guide into the edges neatly with your hands, then trim to fit with a sharp knife.
To give fondant icing the professional look, use a cake smoother. This simple plastic tool is inexpensive, but will make such a difference to your finished cake.
Or to cover with royal icing for a snow effect, make according to packet instructions then spread over the cake with a palette knife..
Then comes the fun part. Take things up a notch with these simple Christmas cake decoration ideas that are so easy to recreate at home. Enjoy… 
Winter woodland Christmas cake
Top with pine cones sprayed white or with glitter to create a pretty winter scene to bring to the table. Clean the pine cones carefully first, then spray them - if you don't have spray paint, you could even use non-toxic emulsion paint. Tie a ribbon around the base of the cake, secured with a little icing sugar mixed with water to make a glue. All you have to do is set aside the pine cones before you slice into the cake.
Chocolate Christmas tree cake
Make royal icing according to packet instructions and spread it over the cake with a palette knife, but don't make it too neat - you're aiming for a rippled snow effect. When the icing is still soft, stand up Christmas tree-shaped chocolates, which should be easy to find at most supermarkets at this time of year. Sprinkle with edible glitter and sugar snowflake decorations. 
Driving-home-for-Christmas cake
We went for a novelty bauble because we couldn't resist this Christmas car with a tree on the roof  but you can use any baubles you like - even the classic kind would work. Pipe a border around the edge of even small dots of icing and stand mini icing decorations - we've used trees to complete the coming-home-for-Christmas scene, but you could use stars instead. Just add edible shimmer sprinkles. 
Let's Party Christmas cake
This star effect on the icing is made with a star pattern rolling pin - it's so easy to use; you just roll it over rolled our fondant icing, pushing down firmly, and it leaves a star print behind. You'll also find them in in specialist cake shops. Make a 3D effect by sticking on icing stars with a little icing sugar mixed with water. The cake is finished with a quirky cake topper and can be reused. Of course, with a cake like this, sparklers are a must when you bring your cake to the Christmas table.
Marzipan snowflake Christmas cake
Skip the icing altogether by making a feature of your marzipan layer. Use a snowflake cutter to stamp out marzipan stars and glue them to your marzipan later with a little water. Use a cook's blowtorch to pick out the snowflake edges and sprinkle with edible glitter.
Floating star Christmas cake
Take simple icing to the next level with this easy trick. Cover just the top of your cake with a layer of marzipan. Roll the fondant icing and either cut one very thick round to fit the top of the cake or stick to medium sized rounds of fondant to each other with a little water. Use a star-shaped cutter to stamp out stars. Set the layer of fondant neatly on the top of the cake, using water to help hold in place. Fill the star shapes with edible silver balls and smaller star cut-outs of stars from any remaining icing, which will have effect of floating stars. Finish with a ribbon round the edge, secured with icing sugar mixed with water.
Fruit and nut Christmas cake
Keep your Christmas cake simple but sophisticated by glazing a plain Christmas cake with apricot jam and arranging rows of Brazil nuts and pecans in stripes across the top, in between rows of dried cranberries. Use a pastry brush to glaze the top with apricot jam for a shiny finish.
Gingermen men Christmas cake
It's so easy to make this novelty cake, which is perfect if you have young children visiting at Christmas. Make up some royal icing according to packet instructions, then smooth it over the cake with a spatula, without being too precise - it's a snow effect you're looking for. Mix icing sugar with a little water to form a sticky paste then use it to secure a ribbon round the side of the cake and to stick chocolate shapes to the ribbon. We used chocolate ginger bread men and candy canes, which you can find in most supermarkets. Sprinkle the top with edible snowball decorations. 
Marzipan fruit Christmas cake
Simple but effective, it's so easy to decorate this cake using shop-bought marzipan fruit arranged round the rim of a simply iced cake. We got ours from M&S.
Chocolate box Christmas cake
This Christmas cake decoration idea couldn't be easier. Crack open a box of Christmas chocolates and arrange them round the base of the cake. We used truffles from M&S, as well as candied orange and ginger dipped in chocolate from Daylesford and a handful of nuts. Pile as much as you can around the edge of the cake stand, for an abundant effect. You can even work in some icing stars on twine. 
Jess Beech is an experienced fashion and beauty editor, with more than eight years experience in the publishing industry. She has written for woman&home, GoodtoKnow, Now, Woman, Woman's Weekly, Woman's Own and Chat, and is currently Deputy Fashion & Beauty Editor at Future PLC. 
She caught the magazine bug during a stint as Fashion Editor of her university newspaper alongside her English degree, and hasn't looked back since. As for the fashion bug, that came as part and parcel of growing up in the 90s, but the less said about that the better!
Jess' average day in the office is spent researching the latest fashion trends, chatting to industry tastemakers and scouring the internet to bring you this season's must-buy pieces - as well as advice on how to wear them. Weekends are equally fashion-focused, and Jess has been known to visit no less than five Zara stores in a single day in search of the perfect occasion dress. 
The only thing that comes close to a buzz of finally tracking down that much-coveted dress is the joy of discovering a new beauty wonder product or hero ingredient. A beauty obsessive, Jess has tried everything from cryotherapy to chemical peels (minus the Samantha in Sex and The City-worthy redness) and interviewed experts including Jo Malone and Trinny Woodall.