Where Holly Willoughby Buys Her Clothes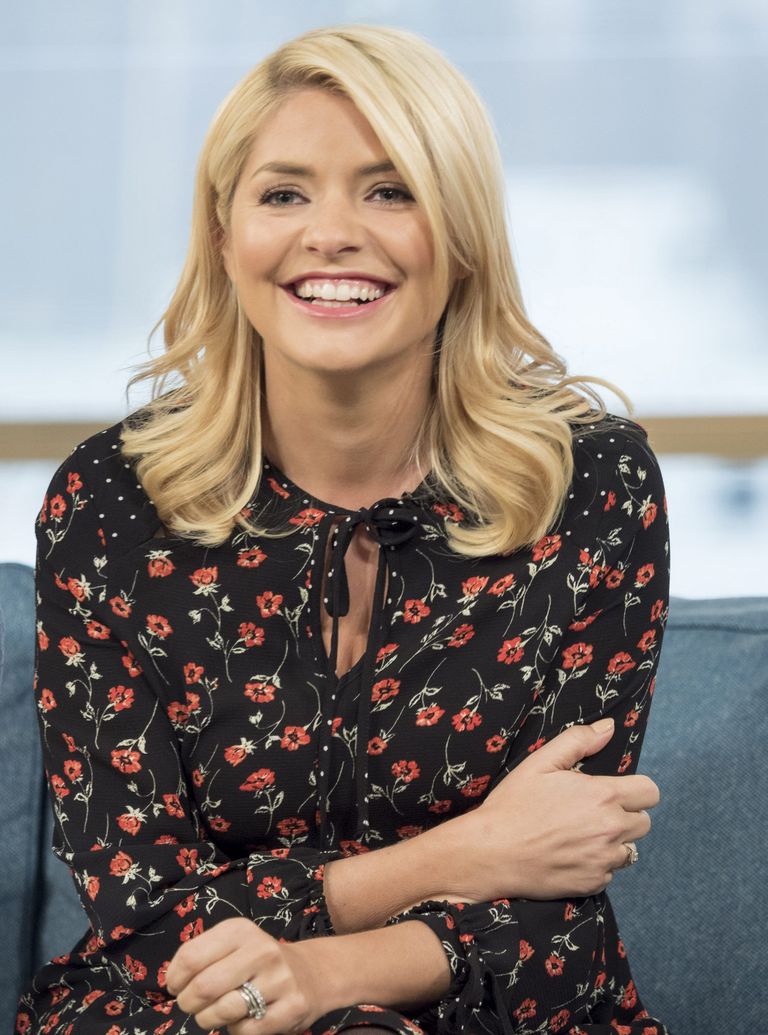 (Image credit: Ken McKay/ITV/REX/Shutterstock)
We'll be honest - Holly Willoughby's clothes are the main reason we get out of bed in the morning. If, like us, you tune in to check out the latest This Morning fashion segment only to be overcome by an overpowering urge to find out where Holly found her own outfit, you've come to the right place. And you might be please to learn that, despite a soft spot for designers like Alexander McQueen, the bulk of her wardrobe is made up of affordable, accessible high street pieces. Read on to find out where our favourite TV presenter sources those curve-loving knits, ditzy print tea dresses, figure hugging trousers and classic pencil skirts we know and love her for.
Her high street favourites
Holly loves a pair of high-waisted black trousers. "A high-waisted trouser is my best friend," the curvy presenter says. Some of them may be designer, but her favourite pair comes from...Zara. She's also a fan of their tops, skirts and knitwear.
In particular, Holly has also, recently, been favouring affordable designer store Hobbs for her This Morning fashion picks.
She recently donned a stunning, shimmery blue dress by the high-end designer, and fans clearly loved the choice, with one writing "I need this dress!", and another admitted, "Love this dress!"
[instagram]
She then wore the designer twice in one week, rocking a slight change from her usual style in a striped shirt dress by Hobbs.
[instagram]
The dress proved controversial, with some fans claiming they loved it, while others called it one of her worst outfit choices yet. However, both quickly sold out sooner after Holly wore them, so clearly she's doing something right!
So what about those floral tea dresses she favours? More often than not they're picked up fromMiss Selfridge. You'll also have spied Holly in high street bargain buys from the likes ofBanana Republic,H&M,New Look,Marks & Spencer,Topshop,Mango,Next,Boden,River Island,Dorothy Perkins,J.CrewandOasis.
[instagram]
Mid-range and premium high street brands such as Massimo Dutti,L.K.Bennett,Jigsaw,Whistles,Ted Baker,Jaeger,Anthropologie,Karen Millen,Oliver BonasandWinser Londonare also high on Holly's hitlist. And she loves House of Fraser and John Lewis' diffusion lines, fromBIBAtoSomerset by Alice Temperley. Psst... you can often find the details of her day-to-day outfits on Holly Willoughby'sInstagramaccount.
Her online finds
Holly might have theultimate workwear wardrobebut, thanks to the likes ofThe FoldandLibby London, we can too - hurrah! These homegrown web-based labels might still be flying under the radar, but they're fast becoming the stylish British businesswoman's most-visited bookmarks.
[instagram]
Another Holly favourite,Closet London, serves up surprisingly affordable - yet supremely gorgeous - dresses, skirts and tops for every occasion, and even offers same day delivery in London. One-stop-shopBaukjenand bargain shoe meccaPublic Desireare also on her click fix list - no one will know they're not designer, we promise.
Her designer staples
Holly may have a soft spot for aRoksandatop orRoland Mouretpencil skirt, but she always gets her money's worth. It's all about cost-per-wear, after all... Take a leaf out of her book by bagging an investment buy fromAlexander McQueen,The KooplesorAlice + Olivia.
[instagram]
She also champions emerging designer brands. Follow her trendsetting example inSafiyaa,PinkoorBeulah London. Those beautiful hand printed silk blouses? They'll be fromMercy DeltaorRixo. And that rainbow print blouse?Tabitha Webb.
[instagram]
Her shoe collection
Coveting Holly's latest pair of classic court shoes? Well, they might be fromPrada,Manolo Blahnik,Gianvito RossiorGuiseppe Zanotti. But they might just as well be fromOffice,Russell & Bromley,Reiss,L.K.BennettorPublic Desire! Steal her gym style atSweaty Betty(whether or not you actually make it to the gym is entirely up to you, of course).