The Oliver Bonas 'back to work' sale has up to 25% off - here are our top picks
Update your office attire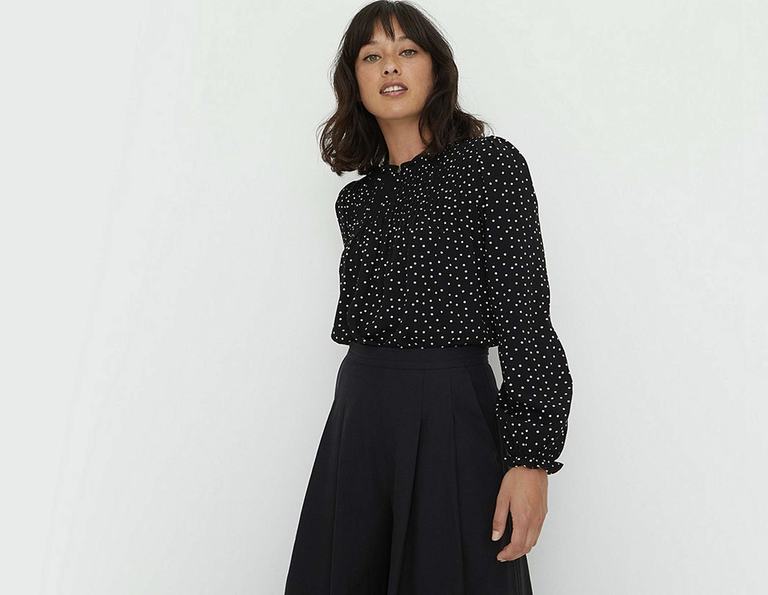 September signals the end of summer and a "back to work" reset for many.
If you're heading back to the office, or perhaps just looking for an excuse to update your work wardrobe, Oliver Bonas has a plethora of stylish and sophisticated products in its "back to work" sale.
MORE:These Marks & Spencer ankle boots are set to sell out for Autumn – and they're only £29.50
The high street brand has become a firm favourite over the past few years for its adorable homeware and gifts - but the jewellery and clothing selection is also not to be missed.And there's no need to spend a fortune either, as the Oliver Bonas sale has plenty of affordable treats - with up to 25% off.
The dress selection at Oliver Bonas has something for everyone, with fun floral prints to more understated pieces and even garments which could be worn for special occasions, such as weddings. Currently, the Floral Spot Mix & Match Black Midi Dress is on sale, now £56.25, down from £75. The midi style is both practical and sophisticated - ideal for office wear - and the print is made up of a peach floral design with a contrasting polka dot pattern.
The Self Striped Blue Pleated Midi Skirt is another sale item which should be snapped up pronto. It features textured stripes which give off a super luxury feel and the dusty blue tone is great teamed with a neutral knit or top. It is currently £48.75, down from £65.
MORE:How to get £113 worth of Elemis products for just £68
Another great piece is the Polka Dot Black Long Sleeve Top for £37.12. This comfortable-yet-chic blouse is ideal for a day in the office but also an evening out - making it a perfect day-to-night item.
In terms of accessories, Oliver Bonas has a brilliant selection of unique jewellery and stylish bags. We love the Jolie Multi Beaded Cord Collar Necklace, which is now just £24. It's a real statement piece and is great for injecting a little fun into a more formal look. There's also the brand's Baden backpack, which is £37.12, down from £49.50. It comes in two different colours - black for people who prefer more a timeless style, or a bold yellow shade which will turn heads for all the right reasons.
Baden Black Rectangular Backpack Large - was £49.50, now £37.12
VIEW NOW: Baden Black Rectangular Backpack Large - was £49.50, now £37.12
Self Striped Blue Pleated Midi Skirt - was £65, now £48.75
VIEW NOW: Self Striped Blue Pleated Midi Skirt - was £65, now £48.75
Floral Spot Mix & Match Black Midi Dress - was £75, now £56.25
VIEW NOW: Floral Spot Mix & Match Black Midi Dress - was £75, now £56.25
Jolie Multi Beaded Cord Collar Necklace - was £32, now £24
VIEW NOW: Jolie Multi Beaded Cord Collar Necklace - was £32, now £24
Polka Dot Black Long Sleeve Top - was £49.50, now £37.12
VIEW NOW: Polka Dot Black Long Sleeve Top - was £49.50, now £37.12
Baden Yellow Rectangular Backpack Large - was £49.50, now £37.12
VIEW NOW: Baden Yellow Rectangular Backpack Large - was £49.50, now £37.12