5 reasons why FitFlop's iQushion sandals are the best for comfort and style, according to an expert
There's a science behind their amazing comfort.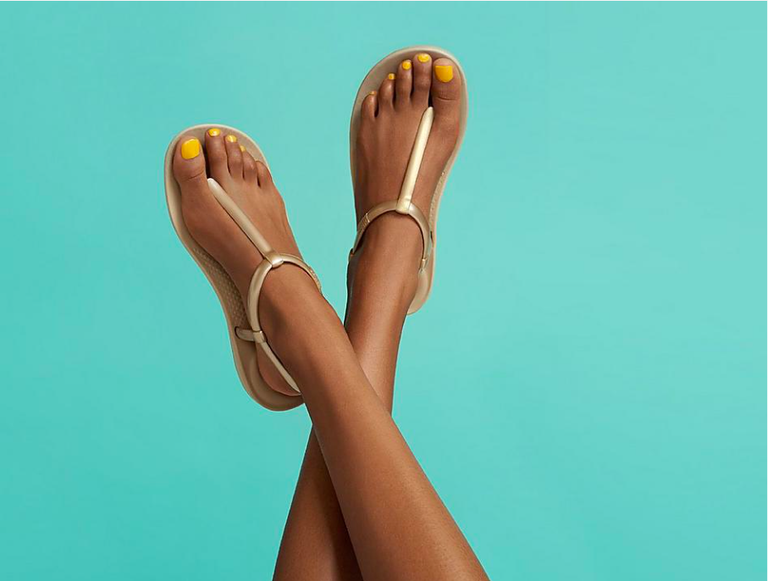 Nobody strikes the balance between comfort and style quite like FitFlop. From pretty ballet flats to chic tennis shoes – not forgetting, of course, their gorgeous signature sandals – FitFlop is a brand thatgives comfort top priority, without compromising on style.
And FitFlop's iQushion technology is a great example of where the latest trends meet all-day comfort.
Providing an ultra-light, super-sleek cushioning that's ergonomically shaped, FitFlop's iQushion sandals and flip-flops might just look like a chic pair of wear-everywhere shoes, but they're expertly engineered to provide your feet with optimum support too.
Dr Kim Lilley, Research and Development Manager at FitFlop and the expert behindiQushion, reveals to woman&home what makes FitFlop's sandals better than all the rest.
SHOP NOW:IQUSHION Splash Pearlised Back-Strap Sandals in Silver, £32, FitFlop
1. The sandals are shaped to hold your foot perfectly
We've all experienced wobbly moments with some sandals - the feeling that you need to grip on tight to them to stop your foot from slipping inside them.
Well thankfully, Fitflop's sandals eliminate the feeling of being unsteady in your shoes, thanks to their unique design.
"Most flip-flops/sandals require you to hold on with your toes, which wastes energy when walking," says Dr Kim. "Ours have been engineered so you don't need to 'grip' - the straps are shaped to hold the shoes to you."
SHOP NOW:IQUSHION Sparkle Ergonomic Flip-Flops in Urban White, £35, FitFlop
2. The iQushion follows the natural curves of your foot
"Most flip-flops/sandals are flat underfoot. We have engineered iQushion so it follows the natural curves of the foot," says Dr Kim. "This means you are supported even in such a slim silhouette."
SHOP NOW:IQUSHION Sparkle Ergonomic Flip-Flops in Black, £35, FitFlop
SHOP NOW: IQUSHION Super-Ergonomic Flip-Flops in Gold, £24, FitFlop
3. Their bounce back foam means they won't wear down quickly
Buying a pair of sandals only for them to wear down during one summer is frustrating. But with Fitflop, this isn't a problem.
"Many other brands will wear down quickly due to the material they are made from. We created a new formula of foam to ensure the material bounces back after each step, giving the full amount of cushioning even on a long walk," says Dr Kim.
SHOP NOW:IQUSHION Sparkle Ergonomic Flip-Flops in Hot Pink, £35, FitFlop
4. They've been tried, tested, and then tested again
"Unlike most other beach flip-flops/sandals, ours have been through years of testing in a human performance lab, to ensure they perform as best as possible," Dr Kim says.
SHOP NOW:IQUSHION Splash Sparkle Back-Strap Sandals in Mink, £40, FitFlop
5. There are so many gorgeous colours and styles to choose from
"And finally," says Dr Kim, "they look absolutely amazing and come in a huge variety of colours and prints!"
We certainly agree on that one!
Shop more of FitFlop's gorgeous styles here.
Will you be picking up a pair of their sandals for the rest of the warm September ahead of us?
Kate is a freelance contributor to woman&home, covering everything she loves most: fashion, fiction, and fancy face cream. If she's not working, she's probably reading, feeding her online shopping addiction, or judging the taste level of celebrity houses (10/10 for Dakota Johnson, 2/10 for Tan France).

She graduated from Central Saint Martins in 2020 with a BA in fashion journalism, and her byline has also appeared in British Vogue, The Times, and Marie Claire.