UK nature reserve named one of the best in the world for stargazing
The perfect excuse to take in some night sky views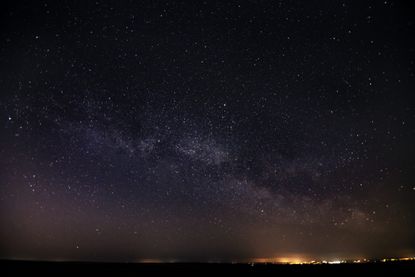 When it comes to stargazing you might not think the UK has the best spots to offer.
But a scenic corner in southern England has been awarded the prestigious International Dark-Sky Reserve title.
The accolade was presented after residents in the Cranborne Chase Area of Outstanding Natural Beauty (ANOB) - which covers Wiltshire, Dorset, Hampshire and Somerset - collectively turned off their lights at night to see the view.
The area is just one of 14 International Dark-Sky Reserves around the world, a factor which makes the award extra impressive.
It's the first entire AONB in the UK to be awarded the title by the International Dark-Sky Association - a US-based body that celebrates "exceptionally starry skies" and aims to stop light pollution.
It has, however, taken more than ten years for the area to meet the strict stargazing criteria.
Only areas where the Milky Way is visible to the naked eye can be named dark sky reserves.
Adam Dalton, an International Dark-Sky Places Program Manager at the association, said, "Cranborne Chase has the largest central area of darkness of any International Dark-Sky Reserve in the UK.
"It is a huge area of land at almost 1000 sq kms, and less than two hours from London and Bristol."
Linda Nunn, director of Cranborne Chase AONB, added, "We think of our beautiful landscapes as being on the ground, but 50% of our landscape is above our heads, in the sky.
"The quality of our night sky is so important and this isn't just for the benefit of astronomers.
'There are huge benefits for nocturnal wildlife, our own human health and wellbeing, for education, tourism and for energy saving. We're thrilled to be playing our part."
Other areas in theUKto feature in the dark sky reserves list include National Park Exmoor, Brecon Beacons National Park, Moore's Reserve and Snowdonia National Park.
Further afield, Rhon and Westhavelland in Germany also have the stargazing title, alongside Pic du Midi in France and Mont-Megantic in Canada.
Lizzie Thomson is a regular contributor to woman&home, and also contributes to Metro.co.uk, Ideal Home, Culture Trip, and Evening Standard, covering all things lifestyle.