The UK's best nudist beaches for families and couples
Where to strip off and enjoy the elements on the UK's top nudist beaches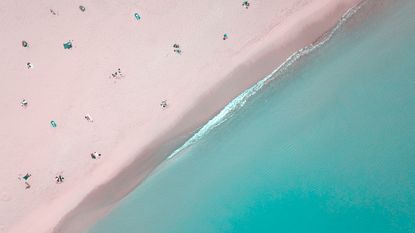 (Image credit: Getty)
While we might not openly be a nation of liberated naturists, the UK isn't short of nudist beaches where you can bare all.
There are actually plenty of nudist beaches around the UK for families and couples to enjoy the freedom they desire, for those who fancy a UK staycation in the nude. If you're looking for somewhere you can comfortably strip off without being judged, these are the top nude beaches in Britain.
The best nude beaches for families
Naturism seems to come naturally to the kids, so if you're seeking somewhere for the family to relax in a safe space by the sea, these are the top nude beaches for you. These beaches are great for all naturists, but we've selected them as top family nude beaches because of their busy and safe reputations.
1. Brighton Beach, East Sussex
Specifications
Terrain: Pebbles
Facilities: Excellent
Swimming: Good
Where to stay: Hotel Una
An official nudist beach, Brighton's big pebbly stretch is incredibly busy, so only come here if you're willing to bare all in front of hundreds of clothed and non-clothed visitors in summer. The beach has plenty of facilities, with beach bars and public toilets, and the sea is great for swimming. You'll have views of the new pleasure pier and old burned out pier to the west, and Brighton Marina to the east.
There's a playground for kids (dress them first, though) and an adventure golf course. The naked section of the beach sits between the playground and the Marina.
2. Druridge Bay, Northumberland
Specifications
Terrain: Sandy
Facilities: None
Swimming: Good, shallow
Where to stay: The Amble Inn
With shallow waters and soft golden sands, Druridge Bay is a wonderful spot for naturists on the Northumberland coast. The beach in its entirety yawns across a large crescent from Amble down to Cresswell. It's clean, wide and has a good-size section for stripping off between the Chevington Burn and Druridge Bay National Trust area.
The beach is popular with dog walkers, so do be aware that you might see curious pooches and fully clothed owners wandering about. There are no facilities, so you'll need to bring everything you want, and take it home with you too.
3. Holkham Bay, Norfolk
Specifications
Terrain: Sand
Facilities: None
Swimming: Good
Where to stay: The Globe Inn
This Norfolk beach regularly sits on 'best beaches' lists about the UK, and there's no wonder. The wide, sandy expanse has undulating dunes, swishing grasses, and – when the weather's on your side – spectacular blue skies. Kids will love the ample wet sand for building castles, and a good gusty wind means flying kites is great fun here.
There have been some incidents of indecent behaviour here which led to naturist bans, but all was resolved in 2015 and naturists are now allowed to bare all on the beach, just not within the sand dunes. There are signs showing where the nudist area begins.
4. Crakaig Beach, Sutherland
Specifications
Terrain: Sand
Facilities: None, except campsite next door
Swimming: Good
Where to stay: Crakaig Loth Campsite
Mainland Scotland's only officially designated naturist beach is a delight for families, with a campsite nearby for pitching your tent or parking up with the caravan or motorhome. The naturist section runs from the river to Lothbeg Point, and there's good swimming around the river mouth.
The campsite occasionally runs special naturist weeks in summer, too, so if you're really keen to keep your kit off, you could plan a trip around that.
5. Studland, Dorset
Specifications
Terrain: Sand
Facilities: Toilets and cafe
Swimming: Good, shallow
Where to stay: The Pig on the Beach
One of the UK's most famous and well-known nudist beaches, Studland Beach in Purbeck is a solid option for families looking for a bit of freedom. The naturist section is well marked with posts and signs, and National Trust wardens on duty here will often move anyone getting naked in the wrong spot. Speaking of those wardens, their presence make this one of the safest and cleanest (behaviour-wise) nude beaches in Britain.
6. Rhossili Bay, the Gower
Specifications
Terrain: Sand
Facilities: None
Swimming: Good
Where to stay: King's Head Inn
Gorgeous views of the Carmarthenshire coastline will have you mesmerised on Rhossili Bay, where grassy dunes back a wide, three-mile-long sandy beach. The northern end of the bay is for naturists, just south of Spaniards Rocks and Burry Holms Island. On the way to the nude section, kids will love to see the mossy wreck of Helvetia, a Norwegian ship that got caught in a storm in 1887 and whose wooden hull now pokes out of the sand.
The best nude beaches for adults
If you're travelling without the kids, these beaches are also great options.
1. Pedn Vounder and Treen, Cornwall
Specifications
Terrain: Sand and shells
Facilities: None
Swimming: Good
Where to stay: Artist Residence, Penzance
Sitting on the south Cornwall coast, not far from Land's End, Pedn Vounder and Treen is gorgeously remote. It's so remote, in fact, the sandy, shell-strewn beach is only usable in mid or low tide, so be sure to check timings before you set out.
It's a great walk along the coastal path from Porthcurno and a bit of a scramble down the rocks to the beach. Note that you'll likely share the cove with a few 'textile beach users' (clothed holidaymakers), but it's well worth it for the crystal-clear waters and gorgeous craggy cliff views.
2. Walney Island, Cumbria
Specifications
Terrain: Sand
Facilities: None
Swimming: Good
Where to stay: Parkknott Retreat Luxury Lodges
A beautiful secluded beach with sandy dunes awaits for discerning nudists on the northern end of Walney Island. A huge sandy expanse looking out across the Atlantic, not only can you soak up the summer sun, but you'll also spot ringed plover, migratory seabirds and oystercatchers.
A road follows the seafront along Earnse Bay and ends at the sand dunes. Park up and walk 30 minutes or so and you'll find yourself at the nudist section. Nearby Roanhead has also been tipped as a reliable option for naturists.
3. Newborough Warren, Anglesey
Specifications
Terrain: Sand
Facilities: None
Swimming: Good
Where to stay: Black Boy Inn, Caernarfon
If breathtaking scenery is what you're after, strip off at Newborough Warren. This gorgeous beach in Anglesey sits in the shadow of Snowdonia with views out to the Llyn Peninsula – it's all particularly magical at sunset.
Naturism in the UK: golden rules to follow while naked on the beach
If you've never been naked on the beach before, there are a few things you need to know before you get your kit off. Follow this etiquette to ensure you have a stress-free time on the UK's nudist beaches:
Stick to the designated areas. While you can technically strip off on any beach in the UK, it's a safety-in-numbers situation, so stick to the designated naked areas and you'll be safe (and you won't shock any unsuspecting holidaymakers in the process).

Keep your distance. As you would even when clothed, try to pick a spot not too close to another family or couple. While you might all enjoy the freedom of nudity, an element of privacy is still important.

Don't stare at others or approach strangers – it's disconcerting at best. If you need to interact with others, it's good manners to cover up before you do.

Don't take pictures – not even a selfie. You don't want to be accused of snapping a stranger inadvertently.

Don't engage in any 'adult activity'. While sex outdoors isn't illegal, it's unlikely you're going to have enough privacy on a beach in the UK, so it's best to avoid it.

If you're asked to cover up by a police officer, do so. You don't want to get yourself arrested or give nudists a bad name.
Lottie is an NCTJ-trained journalist, an experienced travel writer and an expert in creating compelling digital content.
Lottie has been in the travel writing business for nearly a decade and has writing and photography bylines at The Telegraph, The Times, The Independent, the i and National Geographic Traveller. She's done broadcast work for BBC Radio 4 and have contributed to a number of guidebooks and coffee table titles during her career.