Meet The C-List - the first ever beauty platform for cancer patients
The C-List has it all: from 'cancer-kinder' product recommendations to beauty tutorials and a supportive online community.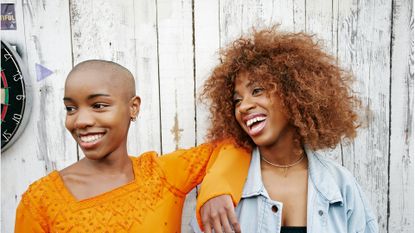 (Image credit: Peathegee Inc/Getty Images)
It may not seem like the most important consideration after a cancer diagnosis but even your beauty regime will need a re-think. Enter the The C-List, the first ever beauty platform created for cancer sufferers to simplify that part of your journey.
The comforting texture of lotions and creams plus the feel-good factor of self-care are undeniable. But they can also offset the side effects of cancer treatments like chemotherapy, which can leave skin dry and sensitised.
And let's face it, expertly drawn-in brows not only frame the face that little bit better but also bring back a little normality.
More from woman&home:
Best mascara (opens in new tab) – lengthen, define and volumise your lashes with our favourite formulas
Best eye cream (opens in new tab): our favourite formulas for every skin type
Best foundation (opens in new tab): Our favourite formulas for all skin types


But knowing what products are safe to use when going through cancer treatment and what won't cause a reaction is a minefield.
"When I was diagnosed I got every piece of medical advice under the sun but when it came to the actual 'living with cancer' side; like the make-up, skincare, beauty products I felt super stranded and clueless on what I could or should use," Georgie Swallow, blood cancer twice thriver, says on the website.
The C-List, which was set up by make-up artist Lisa Potter-Dixon and cancer campaigner Helen Addis, is the first beauty destination created for people going through cancer treatment.
"We came up with the idea during a live back in July after Helen told me that when she had breast cancer she would go into a chemist or visit a makeup counter to ask what she could use and no one could tell her," Potter-Dixon told us. "It would reduce her to tears. She felt she needed her 'Warpaint' more than ever to get through her treatment, but couldn't bear the thought of using the baby products she was recommended. So we started collating a list of 'cancer-kind' products and speaking to oncologists and dermatologists about what ingredients you should be looking for."
Coined by the pair as "Goop but for those affected by cancer", you'll find an online beauty shop filled with recommended beauty products that are 'cancer-kinder' to skin. You'll find everything from make-up and skincare to hair and nails, plus home fragrance and bath and body.
A 'tips and tricks' section also offers a wealth of knowledge through beauty tutorials - there's even one on how to map your eyebrows.
"Makeup and skincare are about how they make you feel, not just about how they make you look," says Potter-Dixon. "So if you want to wear a red lip or work a great brow when going through treatment why shouldn't you? It's important that you're able to feel more like yourself."
Perhaps most important of all, there's a community page where people living with cancer share their stories and advice, like how to tell your children.
As well as being an online support system, The C-List aims to give back to its users. It announced that 100% of net profits created from affiliate-linked products sold will go towards gifting a C-List user with a beauty hamper for a spa treatment each month.
Fiona Embleton is a beauty writer who is now Acting Beauty Editor at Stylist. She is obsessed with Isabel Marant and cats.