Save our salons: what YOU can do to help
#BeautyOnTheBrink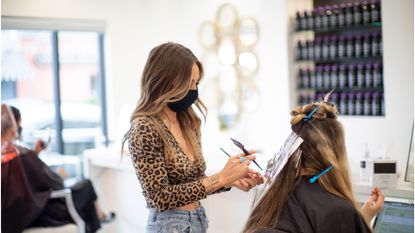 (Image credit: Brandon Colbert Photography/Getty Images)
Save Our Salons is the next step in the #ChopTheVAT campaign launched in 2020 in collaboration with the British Beauty Council. And it couldn't come at a more critical juncture for the beauty industry.
Of the 40,000 salons in the UK, over 5,000 have already closed as they are unable to sustain their rising debt through the Covid crisis. After lockdown 3.0 a further 56 per cent of salon owners are now having to consider closing their business.
The reality for many hairdressers is that their salons have been closed for 260 days out of 365. What that means in real terms if running a business (paying landlords, insurance and utility bills, as well as subsidising furlough pay) for more than two thirds of a year without any income.
More from woman&home.com:
This is all the more staggering when you consider the beauty industry contributes £28bn annually to the UK economy. To put that into context, it's twice the amount of revenue from car manufacturing. Yet this same industry has received no emergency funding during the pandemic.
"Unfortunately, hairdressing is one of the most taxed industries with around one-third of every £1 coming through our tills being paid in tax," Luke Hersheson, hairstylist to Victoria Beckham, posted on his Instagram. "In order to ensure more of our industry survives this crisis, the Save Our Salons campaign is asking government for a reduction in VAT on re-opening that will save the industry from further closures.
"For every £100 of revenue, a reduction in VAT to 5% would add £12 to a salon's takings – a vital lifesaver for any salon. This benefit was awarded to hospitality throughout 2020 but not to hairdressing – our plight has been just as hard – we have no takeaway, no click and collect and no way of digitalising our offering."
Save Our Salons (opens in new tab)provides an opportunity for salon owners nationwide to write a letter to their local MP and unite behind a unanimous plea for a reduction in VAT from 20 per cent to 5 per cent.
Given that salons are unlikely to reopen until May under the government's latest 'road map' out of lockdown, the beauty industry is teetering on the brink of collapse. As a beauty editor I'm a rallying cry for #ChopTheVAT campaign but your local salon needs your help, too.
We need to keep lobbying the government so show your support by writing to your local MP. Click the link to find out who your local MP is. Simply input your post code, write down the constituency email address or postal address and use these to forward your requests. https://members.parliament.uk/FindYourMP. Then support any social posts with #saveoursalons #ChopTheVAT.
Your hair, skin and nails will ultimately thank you in the long run.
Fiona Embleton is a beauty writer who is now Acting Beauty Editor at Stylist. She is obsessed with Isabel Marant and cats.