Rihanna has revealed when we can shop Fenty Skin in the UK
There's only a week to wait! Mark this date in your diary for when Fenty Skin drops into Harvey Nichols and Boots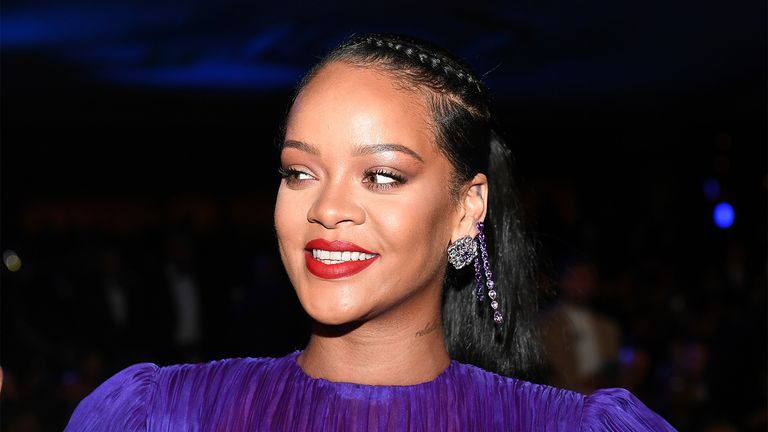 (Image credit: PASADENA, CALIFORNIA - FEBRUARY 22: Rihanna attends the 51st NAACP Image Awards, Presented by BET, at Pasadena Civic Auditorium on February 22, 2020 in Pasadena, California. (Photo by Paras Griffin/Getty Images for BET))
Fenty Skin has become the last word in lust-worthy beauty drops for 2020. Ever since Rihanna shared her entire make-up and skincare routine on YouTube as part of 'Tutorial Tuesday', the obsession has been real. We've Googled Barbados cherry; we've added 'fat water' to our beauty lexicon and want nothing more than the Total Cleans'r Remove-It-All Cleanser, £20 to purge us of all trace of festive over indulgence.
Because, in her own words, "great makeup comes from great skin."
There's just been one major set back. Up until now, Fenty Skin has been only been available to buy online from the US. But that's all about to change! Rihanna has announced that Fenty Skin will drop into both Boots and Harvey Nichols on the 26th December 2020. It remains to be seen whether Fenty Skin will be included in any Boxing Day sales but, given the wait has been so long, we're keen to stock up either way.
What products are in the Fenty Skin line?
Perhaps one of the most appealing aspects of Fenty Skin is the simple line-up. Instead of scouring the shelves trying to match skin type with skin concerns etc etc, Rihanna has taken the guesswork out of the process by launching just three products. Think cleanser, serum and moisturiser with SPF.
Speaking about Fenty Skin, Rhianna said: "I wanted it to feel approachable, easy, and to take the pressure off choosing a routine, so I created one for everyone."
To that end, all of the Fenty Skin products are multi-taskers. They feature clean, vegan, gluten-free and oil-free formulas, and are powered by gold-standard ingredients such as hydrating hyaluronic acid, anti-inflammatory niacinamide and brightening vitamin C courtesy of the Barbados cherry.
A two-in-one cleanser and make-up remover that works into a creamy lather and removes all traces of make-up, including oil-based foundation and mascara. All without stripping skin.
Rihanna's favourite product, this serum-meets-toner targets stretched pores and improves the look of dark spots and fights shine. It's also got hyaluronic acid in there to boost moisture levels.
Meet the moisturiser with sunscreen that hydrates and protects without pilling or leaving a greasy or white chalky residue on the skin (courtesy of the universally flattering pink hue).
If further proof of the pudding were needed, Rihanna reveals her skincare routine: "I've cleansed, Fenty Skin Total Cleans'r. For the next step the Fat Water, my favourite, it's really going to refine my pores right away. Third step [holding Hydra Vizor], quick little moisture all around the face."
She then shows just how well Fenty Skin plays under makeup. "As you can see there's no streaking from the moisturiser and it was literally seconds ago that I applied it." What's more, there's also "no chalky cast from the SPF, there's no flashback."
We're sold.
Fiona Embleton is a beauty writer who is now Acting Beauty Editor at Stylist. She is obsessed with Isabel Marant and cats.