The worst body lotion mistake you're making without realising it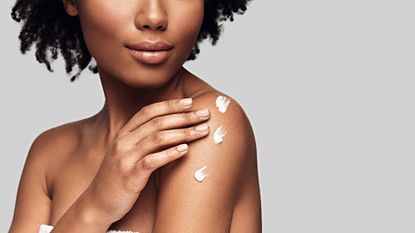 (Image credit: g-stockstudio/Getty Images)
When it comes to body lotion mistakes, you'd probably think applying too little, or not often enough, would top the list. Not so. According to dermatologists, we're not applying our body lotion fast enough as we only have a three-minute window for the best results.
As soon as you step out of the shower or bath, moisture starts getting pulled out of the skin from contact with air. It's therefore advisable to start moisturizing within three minutes of your shower to lock in skin's natural hydration. Wait any longer, and all the water in your skin evaporates.
"Because the skin has been hydrated and soaked maximally by your bath or shower, we like to call it the 'magic three-minute window' when you have time to help seal in that water content by applying a lotion to your skin," explains Dr Dawn Davis, dermatologist at the Mayo Clinic.
More from woman&home:
Best foundation: (opens in new tab) Our favourite formulas for all skin types
Best eye cream (opens in new tab): our favourite formulas for every skin type
The best hair dryer (opens in new tab)for a professional blowout at home


In terms of how you moisturize, lotions tend to be the most water soluble and have most water content, says Davis. Creams, meanwhile, are a blend of water and oils.
"Like a greenhouse lid or barrier between the skin and environment, your moisturizer allows the body to catch up with its own humidification process," adds Davis.
There's one more important reason to stick to the three-minute window: much like facial moisturisers, body lotions penetrate better if skin is still damp.
Fiona Embleton is a beauty writer who is now Acting Beauty Editor at Stylist. She is obsessed with Isabel Marant and cats.