The Best Christmas Wrapping Paper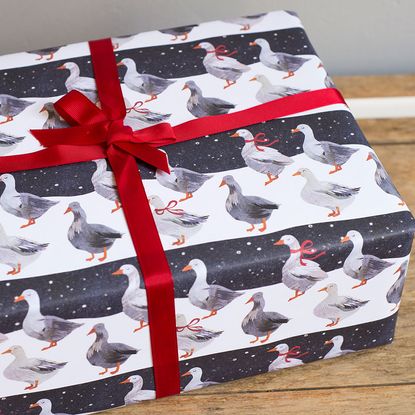 Give the prettiest gifts this Christmas with spectacular Christmas wrapping paper....
After weeks of finding the perfect gift for mum, dad, the kids and everyone else, it may be tempting to throw each of those presents into a gift bag and be done, but adding the perfect Christmas wrapping paper will make every gift feel more special with a personal flourish – plus who doesn't love the excitement of tearing off wrapping paper on Christmas morning!
Choosing Christmas wrapping paper can make or break the presentation of your gift and no one wants all of their hard work searching for that perfect gift to go wasted. When choosing Christmas wrapping paper, keep in mind the person who will be receiving it. Choose something bright and colourful if the recipient is a child, like wrapping paper with their favourite cartoon characters. Trendy designs like galaxy prints or bold brussels sprouts work especially well for teenagers, and we recommend a pretty repeating pattern for anyone older - like festive messages or snowflakes - with a holographic or foil finish to keep it interesting. You can also choose nostalgic Christmas graphics with jolly Father Christmas for a lovely traditional theme.
If you have a bunch of gifts to wrap and want a spectacular go-to Christmas wrapping paper, choose a beautiful neutral design with Christmas motifs in classic red, white, or metallics that would work for anyone. This Kate Slater Christmas geese wrapping paper from Not on the High Street (opens in new tab) is only £2.95 and we love how it works for any age range and gender, plus the Christmas geese design combines red, white and black for a timeless wrapping paper. Just remember to mix different patterns together to create a pleasant lived-in look under the tree.
Once you've chosen the perfect wrapping paper, learn how to wrap high quality gifts with Your Perfect Gift Wrap Guide.
Wilko natures Noel craft stag wrap
With all the stags we've been seeing this season, of course we had to indulge in this trend with wrapping paper as well. This gift wrap may seem humble from a distance, but up close, the careful brushwork on the deer and holly reveal how truly luxurious it is. Wilko (opens in new tab), £2
Paperboy pine Christmas tree wrapping paper
I'm dreaming of a white Christmas wrapping paper with contrasting black trees. This wrapping paper from Paperboy is suprisingly fun to dress up or down. With just two colours, it provides the perfect opportunity to test different ribbons, decorations and tags for a variety of looks. Try it with colourful pompoms or statement hessian. Etsy (opens in new tab), £6.13
Poundland luxury foil merry Christmas gift wrap
This glossy Christmas wrapping paper says it all. From a jolly "ho ho ho" to a fancy "Merry Christmas," you'll find jumpers and presents and many more things on this gift wrap that make Christmas such a wonderful time of the year. Poundland (opens in new tab), £1
Paper & Cloth Design Studio Bec enchanted wood Christmas wrapping paper
Paper & Cloth Design Studio is based at home in the UK with a goal of sharing "little bits of gorgeousness" with every design. This wrapping paper is on the pricier side, but we assure you that it's worth every penny with illustrations of wonderfully intricate flora and fauna and graceful blue animal figures. Not on the High Street (opens in new tab), £10
Linea knitted fairisle wrapping paper
Build a cosy look with this Fair Isle knitwear print, which works well for a rustic Christmas tree scene. Stack presents wrapped in this paper under a sparsely decorated tree with other gifts wrapped in red and a variety of other charming patterns to celebrate the season with simplicity. House of Fraser (opens in new tab), £2.50
Martha and Hepsie party penguin gift wrap
The emperor penguin lives in Antarctica - which we know is nowhere near Lapland, but we can still associate it with the freezing weather we get during the winter. Wrap up a present in this unique print. Martha and Hepsie (opens in new tab), £2.80
Linea icy green and silver snowflake wrapping paper
This wrapping paper is hard to go wrong with since snowflakes are always appropriate around Christmas. Imagine this gift wrap with a silky grey ribbon, silver bells and glitter-covered tag for an incredibly elegant present. House of Fraser (opens in new tab), £2.50
Poundland luxury foil Christmas jumpers gift wrap
Brighten the space under your Christmas tree with this lively luxury wrap. It works great wrapped around gifts for children or if you just need a little extra pop of joy nestled among your presents. Poundland (opens in new tab), £1
CM Wrap-N-Ship Supply winter in the evergreen forest Christmas wrapping paper
This artistically-drawn gift wrap transports us to a beautiful evergreen scene in the midst of winter. Another gift wrap that can be dressed up or down, it can be paired with a fancy gold letter emblem and a wide glitter ribbon. We also like a modest snow-dusted pinecone decoration with pine needles and twine. Etsy (opens in new tab), £4.77
Linea black and gold animal print wrapping paper
Animal print gets a chic makeover in this wrapping paper from Linea. Presents with this gift wrap deserve to be given the the edgiest - and classiest - friends and family members. House of Fraser (opens in new tab), £2.50
Sophia Victoria Joy gold stars white wrapping paper
This glamorous wrapping paper from Sophia Victoria Joy includes the option of creating your own gift wrapping kit with ribbons, twine and a gift tag, which makes the job of wrapping gifts so much easier. Not on the High Street (opens in new tab), from £2.50
MasqueWrapping Cavallini Victorian Christmas wrap paper
Go vintage with this lovely Victorian-inspired wrapping paper that makes us want to curl up with a blanket by the fireplace, make a cuppa and play our favourite old-time records. Bing Crosby anyone? Etsy (opens in new tab), £2.75
Clare Loves brussels sprouts gift wrap
Yes, the British are indeed smitten with these green little vegetables, which are a Christmas dinner staple. This gift wrap holds no controversies though - even people who dislike brussels sprouts will laugh out loud in appreciation of this one-of-a-kind wrapping paper. Clare Loves (opens in new tab), £8.95
Dorma red damask gift wrap
This regal damask wrapping paper is fit for the most luxurious gifts and will aboslutely glow under your tree. The deep red overlay gives the wrapping paper depth and beautifully complements the matte red background. Dunelm (opens in new tab), £4.99