Can weddings resume now - and what will a post-lockdown wedding look like?
Many have had to cancel their 2020 nuptials - but is this the end of the big white wedding?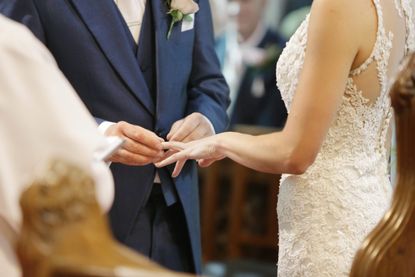 (Image credit: Getty Images)
woman&home newsletter
Sign up to our free daily email for the latest royal and entertainment news, interesting opinion, expert advice on styling and beauty trends, and no-nonsense guides to the health and wellness questions you want answered.
Thank you for signing up to Woman & Home. You will receive a verification email shortly.
There was a problem. Please refresh the page and try again.
When the UK-wide lockdown was announced on 23rd March, an abrupt halt was put on weddings in order to avoid the spread of coronavirus.
Up and down the country - and in fact, across the world - the pandemic meant that those looking forward to their spring and summer nuptials had been forced to cancel their big days.
For some, it has meant rescheduling the entire day until next year - with all of the financial losses and disappointments this involves. And for others, the Covid-19 outbreak has meant that instead of the big white wedding they envisioned, their special day has instead taken place on video-calling app Zoom, with loved ones scattered across the country.
MORE: What is a humanist wedding ceremony – and what are humanist beliefs?
So after all of the disappointment over cancelled weddings in the last few months and weeks - when will weddings actually start back up again, and what might they look like in a post-coronavirus world?
When will weddings resume?
With other services resuming, it's natural to wonder when things might return to some semblance of normal when it comes to the wedding industry.So when will weddings resume?It has been announced that as of two days ago, from Saturday 4th July, weddings and civil partnerships in England can go ahead.InNorthern Ireland, weddings of up to 10 people are also now allowed outdoors.
And in Scotland, outdoor marriages and civil partnerships can also take place now.
Weddings in Wales
In Wales, socially distanced ceremonies, marriages and civil ceremonies, can also now go ahead. However, venues can decide whether or not they want to reopen for these kind of events, with some choosing not to perform weddings yet.
In England however, weddings can only happen with restrictions in place.So what restrictions will be in place now that weddings can begin again?
only 30 people will be allowed at the ceremony, including the couple and staff - such as a photographer
ceremonies should also be kept as short as possible
social distancing will need to be in place
singing should not take place during the ceremony or reception
hands should be washed before the couple exchange rings
receptions should remain small - as only two households are allowed to meet indoors still
no food or drink should be consumed
music should not be played at avolume that makes normal conversation difficult
no marital rituals should take place
venues frequently used for weddings should properly set up social distancing measures such as tape on the floor
Some of these restrictions have further implications for normal wedding traditions too - if social distancing must be maintained, it may well mean that fathers are no longer (for now) able to walk the bride down the aisle, unless they live in the same household.
These rules only apply to ceremonies however, and not wedding receptions.
When will wedding receptions be allowed?
At the moment, the government have ''strongly advised'' against wedding receptions taking place after ceremonies, with the rules still stating that only small celebrations of six people outside - or two households inside - are permitted. It is not yet known when wedding receptions will be allowed to resume - the best course of action is to wait to hear from the government.
What will weddings post-lockdown look like?
Of course it goes without saying that weddings in the very immediate future will be far smaller than normal.
But how might weddings change in the months following the coronavirus? Have attitudes towards weddings transformed following such a seismic shift in the industry?
Guest lists could become a lot shorter - by choice and by necessity
Emma Joy, a luxury wedding planner based in London, said she expects many more smaller, intimate weddings in the next year.
"Smaller weddings (i.e. fewer than 100 guests) have been getting more and more popular in recent years and the pandemic will only accelerate this trend in my view."
She said, "This is partly because of social distancing, which looks like it'll be needed for some time to come, but also because relationships with close family and friends have never been more important. Gone will be the days of feeling obligated to invite everyone you know or work with; couples will want to relax and spend quality time with a more intimate group."
Emma also suggested that budget changes as a result of coronavirus could have an impact on this too."Sadly some couples may face a change in their financial circumstances as a result of the pandemic and this may require them to re-visit their wedding budge," she said.
MORE: How to buy fragrance online when you can't actually smell it, go on treat a loved one (or yourself!)
But this could be a very positive thing for couples. "Reducing the number of guests will help when it comes to food and drink costs, but I don't think other aspects like flowers or entertainment will change. In fact, I think they'll be more important than ever. After all, postponing brides now have more time to browse Pinterest!"
Weekday weddings could become a lot more popular
Sarah Allard, editor at wedding planning website Hitched.co.uk, told Harper's Bazaar that she believes we'll soon be seeing more weekday weddings.
Despite weekend weddings normally being in much higher demand, Sarah says that due to the huge spike in rescheduling for 2021, couples will be going for more weekday weddings in order to have their nuptials sooner, rather than wait a year (or more) for a weekend slot.
"With a lot of 2020's weddings postponed until 2021, weekday weddings will certainly be on the rise and a big trend for next year. A weekday wedding is a brilliant option for couples; not only can you expect to pay a lot less than you would for a weekend date but there's more likelihood of your dream venue and supplier team being available too," she explained.
Delays may also mean that couples focus more about what kind of wedding they really want
Holly Winter, a bridal dress designer, reckons the cancellation of weddings means that couples have had a greater chance to focus on what their nuptials (will) truly mean to them.
She told w&h, "Having anything to do with weddings - planning them, working with couples - in 2020 has been almost universally gutting, but lockdown has provided an opportunity for reflection.
"I've found that, once they're through the initial disappointment of having to postpone, lots of couples have had taken time to consider what their marriage - not just their wedding - means. Some realise it's about the people they love and having them there to celebrate with them; others focus more on just each other and feel that as long as they can still marry and be part of each other's family, everything else is just detail."
Emma agreed. She said, "Whatever the style of the wedding, I think every aspect of the day will be more carefully considered and thoughtfully chosen going forward. For example, couples will value personal touches more than ever, and they will seek out suppliers who offer the highest level of customer service and reassurance."
MORE: Best wedding gifts - unique ideas for every type of couple that will be appreciated more than cash
Holly revealed that the pandemic also appears to have sorted couples into two camps - those who want one, bigger-than-ever celebration, and those who are planning two separate ceremonies, one more lowkey and one with all their loved ones.
"The first are looking further ahead for their new dates so they can still have the big celebration they planned with everyone there. Some are even upscaling their plans. Go big or go home! The latter group are now considering a small legal ceremony either ahead of, or in lieu of a bigger celebration," she said.
Some weddings will be postponed to as late a date as possible
For many couples, rescheduling means doing so as far as possible into the future, in order to avoid any coronavirus-related risks once again.
Emma explained, "The majority of my clients have postponed both their ceremony and their reception to next year or beyond.
"But several have decided they'll get married as soon as possible and celebrate with their friends and family at a later date. We'll definitely see more celebrant-led blessings over the next couple of years, if couples are already legally married."
Wedding dresses may be different post-Covid too
As a wedding dress designer, Holly has found that many of the brides she's working with are changing their dress plans to match two individual ceremonies.
She said, "It feels like, for those those considering two ceremonies, they are scaling down their dress designs accordingly (not in all cases of course). Some will have two celebrations and now need a dress or dresses that will work for both."
So we could expect to see simpler, less extravagant dresses in the near future, while brides manage a double celebration.
Holly does think though, that no matter when or how the wedding happens, coronavirus and its impact means that weddings will feel more joyous than ever when they do return.
"It feels like people want to celebrate being together again as well as the wedding itself," she said. "My brides have been very stoic and optimistic about the situation and their weddings are now focal points for all their friends and families to look forward to when EVERYONE can be together again."
When will weddings be back to normal?
Big weddings will likely be impossible - or ill-advised - for many months to come now, as many countries are still not permitting big gatherings. Gatherings of lots of people are often considered to be 'super-spreader' events, with the possibility to infect lots of different people with the virus.
As such, it's likely that big events like weddings likely won't be able or advised to happen for the rest of the year.
Sign up to our free daily email for the latest royal and entertainment news, interesting opinion, expert advice on styling and beauty trends, and no-nonsense guides to the health and wellness questions you want answered.
Amy Hunt is an experienced digital journalist specialising in homes, interiors and hobbies. She began her career working as the features assistant at woman&home magazine, before moving over to the digital side of the brand where she eventually became the Lifestyle Editor up until January 2022. Amy won the Digital Journalist of the Year award at the AOP Awards in 2019 for her work on womanandhome.com.