What is a humanist wedding ceremony – and what are humanist beliefs?
Humanist weddings are deeply personal, non-religious, and tailored for each couple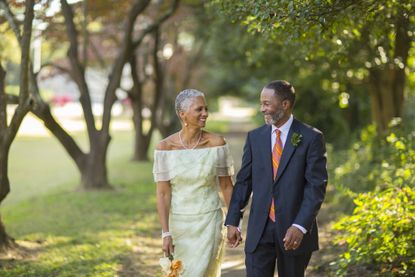 (Image credit: Getty Images/Tetra images RF)
This week, six couples bring legal action against the government over rules that mean Humanist weddings aren't legally recognised in England and Wales. But, what is a humanist wedding ceremony and what are humanist beliefs? Humanist wedding celebrant Anna Bailey (opens in new tab) explains.
It's been a long time coming but the two-day landmark challenge, which began yesterday, is finally being heard at the High Court. Couples will claim they're being unlawfully discriminated against because of their non-religious beliefs. It's expected lawyers for the couples will say that existing laws breach their claimants European Convention on Human Rights.
Their fight is being supported by the charity Humanists UK (opens in new tab), who's head Andrew Copson, said, "Couples who have humanist weddings see that day as the epitome of their love and commitment to each other, and all they want is the same legal recognition for that as is given to every religious person in our country. We have tried for decades to address this glaring double standard. Government has dragged its heels and that's why it's been left to these couples to bring this case."
The organisation also argue a change in law could help reduce the backlog in the demand for wedding ceremonies (opens in new tab), caused by the coronavirus pandemic.
Victoria Hosegood and Charli Janeway, one of the couple's fighting the ruling, explains their reasons why in this BBC news report.
https://www.facebook.com/HumanistsUKCeremonies/posts/2779044318866744
Humanist ceremonies are legally recognised in Scotland, where they're the most popular type of wedding ceremony, and also in Northern Ireland. Despite the fact humanist weddings aren't legal in England and Wales, many couples decide to hold a humanist wedding ceremony anyway. For these couples, going to the registry office beforehand (or afterwards, if that's easier) to 'do the legal bit' is often just a formality they attend with a couple of witnesses. The humanist wedding ceremony is the main event, shared with friends and family.
Many couples tell me they want a humanist wedding ceremony, as a church wedding wouldn't feel appropriate for them. They also want something more personal than a civil ceremony, which many consider too restrictive. As humanist wedding ceremonies are free from religion, they're totally inclusive for all. But, it's important to say that humanist ceremonies aren't just for non-religious people. Some couples simply want to keep their ceremony free from religion as their families have differing beliefs. It's a neutral celebration.
Humanist weddings have become much more popular in recent years. Figures released by the Office for National Statistics (ONS) in 2019, revealed humanist weddings had increased by 266 per cent between 2004 and 2016.
A 2019 study also found that people who marry in humanist ceremonies are three times less likely to get divorced (opens in new tab). Using figures obtained from the Scottish Courts and Tribunals Service, researchers found those who married in a humanist ceremony were less likely to divorce over a 15 year period than couples who had a religious or civil marriage.
What are humanists beliefs?
Humanists are non-religious, and promote rational thinking, tolerance and kindness. We believe we only have one life – and we should make the most of it! Living a thoughtful, ethical life is at the heart our values. We believe marriage is based on equality, mutual support and freedom of choice.
Patron of Humanists UK, Stephen Fry, describes humanism as, "An approach to life, which encourages ethical and fulfilling living on the basis of reason and humanity, and rejects superstition and religion. The most immediate impact of living as a humanist is that we believe this life is all there is - so what we do and the choices we make really count."
https://www.youtube.com/watch?v=wzTXicmkrQ4
For more than 120 years, Humanists UK has been the nation's leading provider of non-religious personalised wedding ceremonies. The campaigning charity has also played a huge part in helping to legalise same sex marriage, abolish blasphemy laws, and decriminalise abortion in Northern Ireland.
If you're interested in learning more about humanism, you could check out the free online course - Introducing Humanism: Non-religious Approaches to Life, with Sandi Toksvig (opens in new tab), shared by Future Learn.
What is a humanist wedding ceremony?
Humanist weddings (and vow renewals) are totally unique to each couple – no two ceremonies are the same, and there is no set script. Humanist weddings are very flexible, incredibly personal, and often centred around telling the couple's story. This usually includes how they met and got engaged, what marriage means to them, and why they want to spend their lives together. A celebrant (opens in new tab) will take the time to get to know each couple, to fully understand their vision for the day. Telling their story often involves plenty of fun anecdotes, special memories and sentimental moments.
As outlined on the Humanists UK website, humanist wedding ceremonies are:
Unique: Celebrants will work with you and write a bespoke ceremony.
Non-religious: Ceremonies focus on what matters in 'the one life we have'; our relationships with those we love and what we value.
Personal: Focus is on the person or couple that the ceremony is all about, their personality and individuality.
Tailored: The mood; content and tone are exactly what you want.
Collaborative: We work with you to create a ceremony that is everything you want it to be, and more.
Flexible: It's for you to decide where and when the ceremony is to be held.
Sincere: There is nothing that has to be included or words that have to be said. Every word will be true to you and your outlook.
Approved: You'll have the opportunity to read and feedback on some or all of the draft of the ceremony if you wish. It's your ceremony – you decide when it's just right.
Having a humanist wedding means you can be as creative as you like when it comes to planning the perfect ceremony. Couples can marry in any venue, including outdoors and in locations that aren't licensed. You can invite friends to share any readings, songs or even performances. If you want a loved one to sing a song, play an instrument or do a tap dance, then why not? There is not set format, the fun and possibilities are endless.
Importantly for many couples, you can share your own personal wedding vows. It's up to each couple to decide how they want to share their vows, or symbolise their union. They may decide to write their own vows, which can be as fun and/or as sentimental as they like. Many couples also like to include a 'symbolic action', such as the ancient practice of hand-fasting (see below).
MORE:When can weddings resume - and what will a post-lockdown wedding look like? (opens in new tab)
In recent years, I've married a couple under a tree in Greenwich Park with just their immediate family present, I've watched in-laws recite lyrics from a Metallica song as their chosen wedding reading, and encouraged guests to join in with a lively rendition of The Beatles, With a Little Help From My Friends. These are just a few of the ways couples have chosen to make their humanist wedding ceremony extra meaningful and personal to them.
What happens at a humanist wedding - and how long do they last?
One of the biggest misconceptions and concerns is that a humanist ceremony won't feel like a 'proper wedding' but that really isn't the case. Of course the bride can be walked down the aisle, you can exchange rings and sign a wedding certificate if you want. But, equally, you don't have to involve any of these traditions, if you prefer. As mentioned above, a humanist wedding is centred on telling the couple's story and there is not set format. But, here are some of the elements you could include, as outlined by Humanists UK.
Arrival of the couple (individually or together)
Introductions and welcomes
Words about love and commitment from a non-religious perspective
Reading or poem
The couple's story – how they met, their shared values, hopes for the future
What marriage means to the couple
Reading, poem or song
The couple's promises/vows
Meaningful symbolic act (e.g. hand fasting)
Exchange of rings
Pronouncement as married
Words of well-wishing
Closing and departure
Humanist wedding ceremonies typically last around 30 minutes, but can be longer or shorter if the couple prefer.
What is hand-fasting?
Hand fasting is an ancient custom that dates back to the Celts. Although it's been associated with Pagan and Wiccan ceremonies, it's becoming increasingly popular in modern and non-religious weddings. Some believe this is where the phrase 'tying the knot' comes from, as a couple is symbolically bound together for the rest of their lives. For many, this physical act of symbolises a connection and lifelong devotion to one another.
Hand-fasting is a really lovely way to add a unique and personal touch to a humanist wedding – and, it looks wonderful in photos. I always suggest choosing chords or fabrics, which have a special meaning, such a strip of a baby blanket, wedding dress fabric, or colours and patterns with meaning – e.g. purple for devotion, or a family tartan.
There are a few different types of hand fasting you could consider, this video (opens in new tab) is a really helpful demonstaration of the various methods.
How much does a humanist wedding cost?
The cost of hiring a humanist wedding celebrant (opens in new tab) can vary, depending on where about you are in the country and how much work is involved. Typically, they cost between £400 and £800. Some celebrants may charge up to £1000 or more if they offer additional wedding planning services.
Although a considerable sum, it's worth remembering many celebrants spent months working with couples to create their perfect ceremony. Not only will they spend hours gathering information and writing the wedding script, they'll also offer plenty of suggestions for the ceremony, including symbolic actions, poems and readings – and they'll help you write your vows. Wedding celebrants can also liaise with the wedding venue and any other members of the wedding party who are taking part in the ceremony. Celebrants with Humanists UK, also provide couples with a presentation version of the wedding script as a beautiful keepsake as well.
Where to find a humanist wedding celebrant
To find a wedding celebrant who has been trained and accredited by Humanists UK, visit their website and enter your postcode (opens in new tab) on their interactive map.
And, huge congratulations to those planning their big day.
Anna Bailey is the editor of GoodtoKnow. She joined the team in June 2018 but has been a lifestyle writer and online editor for more than 14 years. An NCTJ trained and NCE qualified journalist, she began her career in local journalism, working for the Basingstoke Gazette in Hampshire. As Lifestyle Editor for ITV.com she managed the websites for the broadcaster's best-loved shows including Coronation Street, Emmerdale, This Morning, Loose Women. Before joining GoodtoKnow, she was also a Features Editor at MSN UK, where she oversaw the Health & Fitness and Travel sections.