Those strange and beautiful clouds you spotted last night, there's a name for them, and it turns out they're pretty rare
Were you lucky enough to see the eerie cloud formations?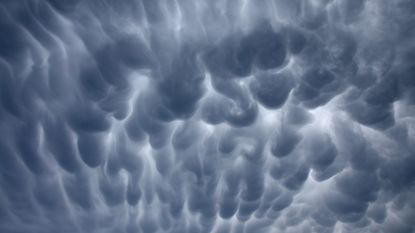 (Image credit: Rainer Binder/ullstein bild via Getty Images)
Most of the country has been hit by wind, rain and hail this week, but it's not all bad as the storm-like conditions created a beautifully rare sight during the evening last night.
Anyone who may have braved the wintery weather conditions for a walk may have been rewarded with huge low-lying bulb-shaped clouds that made for a seriously wonderful sight.
The bulge-like clouds, known as Mammatus, are some of the most unusual and distinctive cloud formations according to the Met Office (opens in new tab). Formed due to stormy weather conditions including hail, heavy rain and lightning, Mammatus clouds almost appear like an upside-down cloud with pouches forming underneath rather than on top.
More from woman&home:
• Best air purifiers to cleanse your home
• Get all zen with our pick of the best yoga mats
• Try these best pillows for your dreamiest night's sleep yet
The incredible appearance of these clouds is made more beautiful as the sun lowers in the sky projecting light up into the pouches. People took to Instagram across the country to share their dreamlike images to the social media platform as the spectacular clouds were spotted over parts of the Peak District and West Sussex.
Residents of Berlin, Germany were also treated to a beautiful display with Mammatus clouds providing photo opportunities across the city.
Mammatus comes from the Latin, mamma, meaning udder or breast. The amazing effect is an example of clouds in sinking air and was first described in 1894. These clouds can extend for hundreds of miles and according to the BBC, "usually indicate that the worst weather has passed."
A rare occurrence, Mammatus is one of the most unusual and distinct cloud formations you can see, lets hope we can all catch them again soon.
Lydia is woman&home's Lifestyle News Editor and a freelance travel writer. Day-to-day she manages an international team of nine news writers and oversees all news content on woman&home.com. Her travel writing has been published in BBC Good Food, Oh magazine, Harper's Bazaar, Town&Country, ELLE, MailOnline, Woman, and woman&home.