The Best Mix of Christmas Lights This Season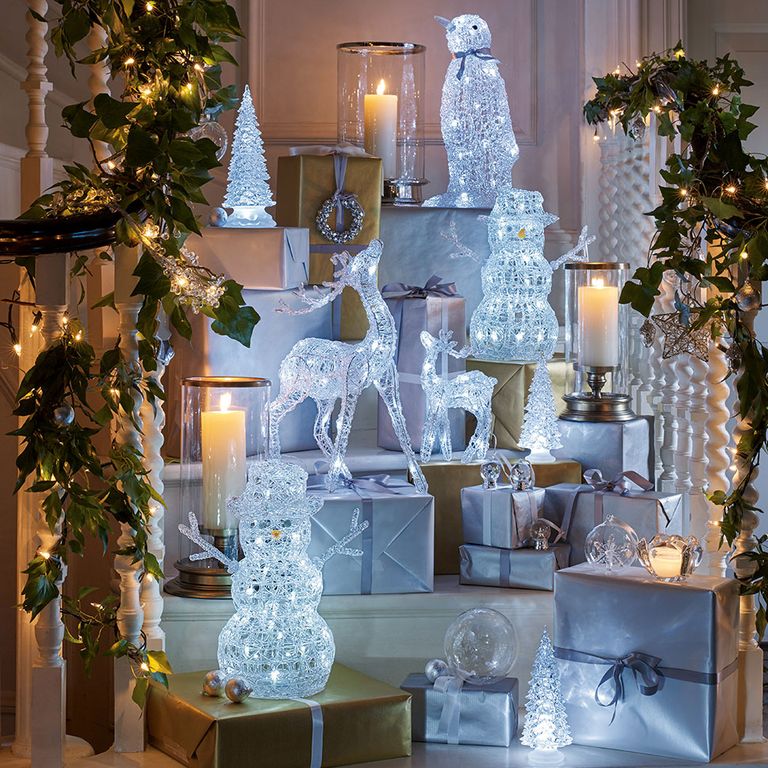 Our Homes Editor has searched far and wide to bring you the best Christmas lights this season!
Christmas is coming, and who wouldn't want to have the most impressive Christmas lights in the neighbourhood! This fantastic selection of Christmas lights will dazzle friends and neighbours. There is a lot more choice in outdoor lights this year with lit trees, jolly snowmen and animals to create the perfect winter wonderland scene. Inside, there are also some lovely designs to get you in the mood for the festive season. Choose from garlands of Christmas lights, on-trend fairground lights, lit stars and village scenes to bring on the Christmas cheer. Pour yourself a drink and put on the Christmas carols!
Click through for the best mix of Christmas lights this holiday season….
Laura Ashley Christmas Lights This season, Laura Ashley has an exceptional array of indoor lights. Choose from these fun shapes for all around the house.
Very Red Bell Light, £14
These glossy
bells
will remind you of Santa's sleigh and make a change from classic white fairy lights. Their red colour will add a warm glow.
Cox & Cox Frosted Light-up Twig Garland, £35
Make your home look like an enchanted forest with this beautiful rustic garland.
John Lewis Crystal Reindeer, £200
Christmas isn't complete without prancing reindeer. Love his confident strut.
Lakeland Light-up Joy Decoration, £34.99
Guaranteed to make you smile. Place this on the mantelpiece or window sill and light up.
Wilko Battery Operated White Twig Tree, £10
Illuminate your tabletop with this simple but stylish tree decoration from Wilko.
Homebase Polar Bears, £69.99
So cute! Mummy and cub polar bears will instantly put you in a good mood.
Cox & Cox Snowball Cluster Light Garland, £30
Since these lights are covered in soft cotton, you can put them anywhere without worrying about damage. Drape around a stag head for fun.
The Range Star Lettering Decoration, £14.99
Another letter block perfect for a mantelpiece.
Very Cotton-Covered Ball Lights, £19
Reminiscent of snowballs, these larger size lights look great. Put them on your tree and you won't need anything else.
Homebase Spiral Rope Tree, £49.99
Light up your garden with this lovely spiral rope tree. Easy to set up and take down again afterwards.
The Range Noel LED Mantle Light, £9.99
This sign is one you'll want to pull out year after year.
Wilko White LED Star, £15
Hang this on the wall or place on a table – simple.
John Lewis Giant HoHoHo Lit Letters, £95
This says it all! Bring a smile to everyone's lips.
Very Snowflake Curtain Lights, £24
This is great for a dark window or hung on a wall as a twinkly backdrop.
Waitrose Ceramic House with LED Lights, £4
Ceramic houses have become a classic trend and this one is a great price. Group 3 together to create a little scene.
The Range Snowman, £89.99
The kids will love this one! Put it on the front lawn for when they come home.
The Range Lantern with Deer, £29.99
A classic lantern with a twist, this one has deer and fawn inside. Aaahh!
Very Curly Pathfinders Outdoor Christmas Decorations, £24 for set of 4
Create a forest in the garden with these curly lights. Or place them along the garden path to guide the way. They even have a star on top!
Wilko Battery Operated Candle Bridge, £10
A candle bridge is a classic Christmas decoration to bring the Christmas spirit into your home. This one is battery-operated, so it can be moved onto mantelpiece or surface.
Laura Ashley Wish Lit Sign, £80
A little bit different, this sign is simple and elegant.
Cox & Cox Light-up Birch Trees, £75-£100
Love this indoor forest of elegant birch trees. Decorate the branches with our favourite baubles to make them perfect for Christmas.
Lakeland Copper Bauble Lights, £9.35
These dainty lights provide a gorgeous amber glow. String them up or place a few in a clear glass vase for a rustic Christmas look.
John Lewis White Snowflake Arch £25
Dress up your mantelpiece or windowsill with this stylish decoration.