Sustainable Christmas wrapping ideas that are kinder on the planet
If you haven't started your wrapping, read this first!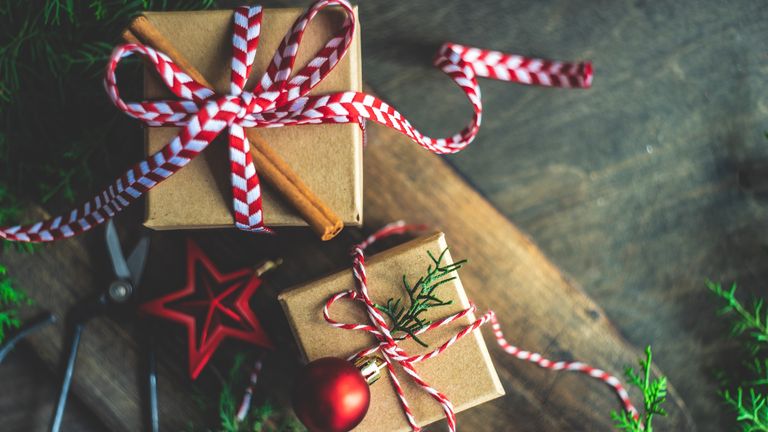 (Image credit: Anna Bogush / Getty Images)
Sustainable Christmas wrapping might not be the first thing you think about when wrapping your gifts but with most of the colourful papers being non recyclable it's time to give it a bit more thought and switch your routine.
Once you've checked out our gift ideas for dogs, zodiac gifts and best gifts for travellers, it's natural to want to wrap them in paper covered in glitter and foil. But usually these types of paper are non- recyclable and will have to go to general waste.
To test if wrapping paper is recyclable or not, simply scrunch the paper into a ball - recyclable paper will remain in the ball, non- recyclable will not. Do not despair though, as there are a few options that are both chic and sustainable.
Brown biodegradable paper
Brown paper is not only planet friendly but simple, looks good and easy to dress up. Add a piece of string and a bauble and you're good to go, or add an extra personal touch and draw on the paper yourself.
Newspaper
We know what you're thinking, what's festive about newspaper? Actually it can make really attractive wrapping paper once spruced up with a bit of string or holly. Just try to pick a cheerful page to use and you're good to go.
Dried flowers and leaves
Dried flowers and leaves will immediately add a sprig of sophistication to any of your presents. They give an air of elegance and expense when actually they are inexpensive and easy to get a hold of. Just tie a stick of dried eucalyptus to your gift and you're done!
Fabric
Fabric has been a recent trend for wrapping for the eco-savvy. It's a good investment to have fabric wraps as you can use them repeatedly. It works in the same way as wrapping paper but instead of using copious amounts of tape, you can tie the fabric around the gift and create a makeshift bow.
Dried fruit and cinnamon sticks
Adding dried fruit or cinnamon sticks to your gift wrapping will add a real bougie feel. Try slicing oranges, limes and lemon and popping them in the oven at 120 degrees for 45 minutes to an hour to dry them. You'll then have yourself some very stylish, homemade decorations not to mention a kitchen smelling like Christmas.
Origami
The internet is filled with step by step guides on cranes, flowers and tree origami tutorials. So grab a bit of your brown biodegradable paper or any tissue paper you have lying around and have a go at crafting your very own paper trees. Place it where you would normally put a shiny, foil bow.
Being more sustainable doesn't need to be expensive and with many of us stuck inside or working from home, being a little bit more creative is fun. You can use so many things within your home whether that be string or flowers to add a bit of flare to your wrapping this year.