Who lives at Windsor Castle now, what's it like inside and when was the Queen's historic Berkshire home built?
Windsor Castle is close to several other royal residences and Her Majesty has been spending a lot of time there over the past two years...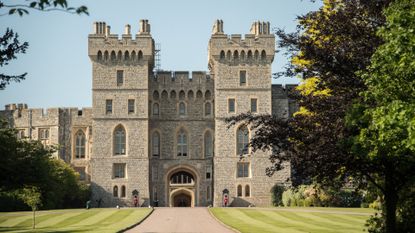 (Image credit: Photo by Noam Galai/GC Images)
The Queen has spent a huge amount of time at Windsor Castle in recent years including over her milestone Platinum Jubilee weekend.
---
In recent years Windsor Castle has gone from being just one of many majestic royal residences to perhaps the one now most closely associated with the Queen. Although she's continued to spend time at her Scottish home Balmoral and at Sandringham House in Norfolk, Windsor is the oldest and largest inhabited castle in the world and one where she's spent a huge amount of time since the pandemic.
Her Majesty also lit the principle beacon for her Platinum Jubilee celebrations there before returning to London days later for a final Buckingham Palace balcony appearance to round off this historic weekend.
But who lives at Windsor Castle now, what's it like inside and who built this beautiful building? We reveal what you need to know about the Queen's Berkshire home.
Who lives at Windsor Castle now?
Up until just a few years ago, no members of the extended Royal Family lived permanently at Windsor and that includes the Queen! Instead, she resided at her Berkshire home at only certain times such as Easter for her Easter Court.
This saw Her Majesty host events for guests, including public figures and politicians as she took up official residence at Windsor Castle for a month. Whilst the monarch also used to live there for a week in June for the Order of the Garter service and Royal Ascot race meeting.
This all changed after the Covid-19 pandemic, however, and since the UK's first lockdown began the Queen has primarily been living at Windsor Castle rather than her London home, Buckingham Palace.
During the pandemic, she and the late Duke of Edinburgh were understood to have been joined at Windsor by multiple members of staff who came together to form what was dubbed the "HMS Bubble". It was at Windsor that the monarch spent the past two festive seasons and where Prince Philip was laid to rest in April 2021 at St George's Chapel.
After his passing, reports suggested the Queen could move to Windsor Castle permanently to be near her beloved late husband. Whilst Her Majesty hasn't directly addressed these reports herself, she's continued to spend a lot of her time in Berkshire. Earlier this year the Queen beamed with joy at the Royal Windsor Horse Show 2022 which was held in the picturesque surroundings of Home Park on the Windsor estate.
And she certainly appeared to enjoy symbolically lighting the principle beacon for her Platinum Jubilee in the quadrangle of the castle as fans across the world celebrated her milestone 70 year reign.
And whilst the Queen's children and adult grandchildren are frequently observed supporting her or representing her across the country and the world, at Windsor Castle she is also close by to several of them.
Prince Andrew and his former wife Sarah Ferguson live at the Royal Lodge on the Windsor Estate, whilst Her Majesty's youngest son Prince Edward and Sophie, Countess of Wessex reside at Bagshot Park in nearby Surrey.
Meanwhile, royal author Hugo Vickers has reportedly expressed his belief that when it comes to the monarch spending so much time in Berkshire, it "makes sense".
"Windsor is the place she loves," he claimed. "She has her memories with Prince Philip there, she has her ponies there and family nearby. It makes sense."
Whether or not the Queen does go on to make Windsor her permanent home, she certainly lives there a great deal at the moment and it's clearly very close to her heart.
What's it like inside Windsor Castle?
The royal Berkshire residence is made up of private rooms for the Queen and the Royal Family to use when they're there, but it also includes public rooms where Britain's longest-reigning monarch conducts her royal duties. Due to the public use of these rooms, glimpses inside the castle are possible through various videos and pictures shared by the royals over the years.
On the Royal Family website (opens in new tab), you can also take a virtual tour of three rooms - the Waterloo Chamber, Crimson Drawing Room, and State Banquet Hall - where many magnificent royal events have been held.
Each of these rooms are elaborately decorated with rich red tones, glittering golds and plenty of wood. Meanwhile, a video on the official Royal Family YouTube channel also shared a brilliantly detailed look inside the home, with a look at the incredibly grand State Apartments and St. George's Chapel where Prince Harry and Meghan Markle tied the knot back in 2018.
And it's clear just how much history the castle has from the number of meticulously-detailed portraits that line many of the palace walls. The Royal Collection Trust (opens in new tab) has revealed that the State Apartments also feature displays of both arms and armour as well as silver gilt and sculpture.
When was Windsor Castle built?
As a historic royal palace it's perhaps no surprise that Windsor Castle was built many centuries ago, but some might not have expected it to have been built by none other than William the Conqueror. He's understood to have chosen the site for his castle because of it's position high up above the River Thames and next to a Saxon hunting ground. Though the Norman Conquest leader and monarch reportedly never lived there himself according to the Royal Collection Trust (opens in new tab).
Instead King William used it as a defensive base at the time and the castle went on to be extended by various monarchs that succeeded him, including Edward III. He is said to have intended Windsor to be the center of his government and his court in the 14th-century.
In the 1840s, Queen Victoria and Prince Albert were said to love the palace and reportedly spent the majority of their year at Windsor Castle. Throughout her reign, it was understood to be the principle palace of the British monarchy.
Windsor is also where the current Queen and her late sister, Princess Margaret, were sent during the Second World War as children, while their parents King George VI and Queen Elizabeth remained in London.
What are Windsor Castle grounds like?
The immediate gardens of Windsor Castle are perhaps not as extensive as you might think, but it's not too much of an issue, considering the vast private and public parkland the residence is surrounded by. Immediately next to the castle is Home Park, private to the Royal Family, which has extensive green space, as well as two working farms.
It's here that one of the Queen's favorite annual events, the Royal Windsor Horse Show, is held each year. Home Park also houses the Royal Mausoleum at Frogmore, which is the final resting place of Queen Victoria and Prince Albert.
The famous Long Walk which Meghan Markle, Duchess of Sussex travelled up on her wedding day is also set within the lush grounds of the castle. And it's a route well-known to the wider Royal Family, who famously travel this way in a procession to Royal Ascot every year. Adjoining the Home Park is Windsor Great Park which encompasses 5,000 acres of land.
These grounds are free for the public to explore to the full and include ancient woodland and award-winning gardens. During his lifetime Prince Philip was actually the Ranger of Windsor Great Park and oversaw developments including the re-introduction of Red Deer into the Deer Park in 1979.
Who owns Windsor Castle?
Windsor Castle is owned by the Crown Estate, meaning its ownership passes from monarch to monarch rather than being privately owned by Her Majesty. This means the Queen doesn't technically own the residence herself, but she has the right to live there as the monarch and so will Prince Charles in the future as the royal who is first in the royal line of succession and set to succeed her on the throne.
Is Windsor Castle open to the public?
The castle is open to the public throughout the year, with tours available to give fans unique insights into the Queen's Berkshire home. These include tours of the State Apartments, Semi-State rooms, and St George's Chapel, where the late Duke of Edinburgh's deeply moving funeral was held in April 2021 and where the Duke and Duchess of Sussex's wedding ceremony took place.
As explained by the Royal Collection Trust (opens in new tab), different tours are available at different times in the year, with the Semi-State rooms only open from autumn to spring, and the castle is closed on Tuesdays and Wednesdays.
So anyone hoping to get a glimpse of a particular part of Windsor Castle can check ahead to plan their special visit around these timeframes.
How much is Windsor Castle worth?
Given that Windsor Castle is located in one of the most expensive areas in the UK and is a building of huge historical significance, it's perhaps no surprise that the palace is understood to be worth a staggeringly huge amount.
According to The National (opens in new tab) the current estimated market value of Windsor Castle could possibly be around £497.5 million which would reportedly be an increase of 719% between 1350 and 2021.
Although this figure isn't something that has been confirmed by the Queen, given the splendour of the castle and grounds, it's easy to see how valuable it is.
Emma is a Senior Lifestyle Writer with six years of experience working in digital publishing. Her specialist areas including literature, the British Royal Family and knowing all there is to know about the latest TV shows on the BBC, ITV, Channel 4 and every streaming service out there. When she's not writing about the next unmissable show to add to your to-watch list or delving into royal protocol, you can find Emma cooking and watching yet more crime dramas.