Who is Queen Camilla's lookalike sister and closest confidant Annabel Elliot?
All you need to know about Queen Camilla's sister Annabel Elliot as she takes on a prestigious role assisting Her Majesty at the coronation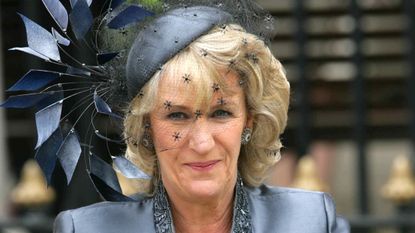 (Image credit: Photo by Antony Jones/UK Press via Getty Images)
Fans might be wondering who Queen Camilla's sister Annabel Elliot is and the sisters have maintained a close relationship over the years.
---
Now Queen Camilla is Queen Consort her family relationships have become even more intriguing to royal fans. Her Majesty's son restaurant critic and food writer Tom Parker Bowles is perhaps the most well-known and makes frequent appearances on the BBC's MasterChef. He even spoke out on a podcast in 2023 to dismiss claims about Queen Camilla's "campaign" for the throne. However, when it comes to the rest of Her Majesty's family, they tend to prefer living their lives more privately and rarely appear alongside her. One person who does more than others is Queen Camilla's younger sister who has attended events with her over the years.
Here we reveal all we know about Queen Camilla's sister Annabel Elliot including what her job is, who her children are and her close bond with Her Majesty…
Who is Queen Camilla's sister?
Queen Camilla's sister is Mrs Annabel Elliot (née Shand) who was born on February 2, 1949 and is the second of Major Bruce Shand and Rosalind Shand's three children. She and Queen Camilla had a younger brother Mark Shand who tragically passed away in 2014. Annabel and her older sister are understood to be incredibly close and it was supposedly partly thanks to Annabel that King Charles and Queen Camilla's wedding ceremony went ahead.
According to Penny Junor writing in Vanity Fair in 2018, the week of the wedding in April 2005 Queen Camilla has apparently been ill with sinusitis and on the day of the ceremony four people were apparently needed to persuade her to get out of bed.
This reportedly included Annabel Elliot who allegedly quipped, "Ok, that's all right. I'm going to do it for you. I'm going to get into your clothes."
Following her sister's reported words, Queen Camilla is said to have got out of bed ready for her wedding day. Annabel continues to have an amazing relationship with her sister to this day and was named as one of just two Ladies in Attendance for King Charles and Queen Camilla's coronation day. The exciting news was announced by Buckingham Palace and Queen Camilla's sister's role will be to assist Her Majesty during this huge national occasion.
This reflects her bond with her sister and Annabel is also one of Queen Camilla's six "Queen's Companions" as opposed to Ladies-in-Waiting.
Despite being the Queen Consort's sister, however, Annabel has generally remained out of the royal spotlight. Though the lookalike sisters have been photographed together over the years, including when Queen Camilla and Annabel Elliot rocked matching hairstyles as they attended the 2022 Booker Prize for Fiction ceremony.
Their resemblance is astonishing and now Queen Camilla is Queen Consort, it's possible fans might start to see more glimpses of Annabel Elliot appearing alongside her as a "Queen's Companion" and loving sister.
Is Annabel Elliot married?
Annabel Elliot was married for 50 years to the late Simon Elliot after tying the knot aged 23 in 1972. Her beloved husband sadly passed away in March 2023 and Queen Camilla was said to have been devastated by Simon's death. According to the Daily Mail, Queen Camilla reportedly joined Annabel and their wider family in Dorset for his funeral service where she paid her respects to her late brother-in-law. Her Majesty is believed to have been close with him and she even invited Simon and Annabel Elliot to join her and King Charles on their honeymoon in Scotland after they married in 2005.
Does Annabel Elliot have children and who are they?
Annabel is the proud mother of three children whom she and Simon welcomed during their decades-long marriage. Together they had a son Ben Elliot and two daughters Alice and Catherine Elliot. Ben is a former Conservative Party Co-Chairman who resigned from this position in 2022 and is also a businessman.
Annabel's son is married to musician Steve Winwood's daughter Mary-Clare Windwood and they have two children together including Arthur Elliot who has been named one of his great-aunt Queen Camilla's Pages of Honor for the coronation alongside three of Queen Camilla's grandchildren.
Queen Camilla's eldest niece Alice Elliot is understood to be married but not much is known about her and her sister Catherine. Both of Annabel's daughters have retained a high degree of privacy despite their aunt being the focus of so much media and fan attention. It's known Annabel Elliot will be attending the coronation and it's perhaps possible that since it is such a huge day for Queen Camilla, their mother will be there and their nephew is a Page of Honor, the rarely-seen Alice and Catherine could make an appearance themselves.
How old is Queen Camilla's sister?
Queen Camilla's sister Annabel is 74 years old and she's just under 18 months younger than Her Majesty who will celebrate her 76th birthday in July 2023. It was reportedly at Annabel's milestone 50th birthday celebrations held at The Ritz hotel, as per the Daily Mail, that Queen Camilla and King Charles' relationship became known to the world as they posed for photographs leaving together.
What is Annabel Elliot's job?
Annabel Elliot is an interior designer and antiques expert and the founder of the Annabel Elliot Interior Design and Antiques shop in Dorset that has been running for three decades. As she's Queen Camilla's sister it's also perhaps no surprise that King Charles turned to her when it came to designing the Duchy of Cornwall estate properties. Annabel reportedly designed the interior of Duchy of Cornwall homes on the Isles of Scilly as well as Restormel Manor in Cornwall, and worked on King Charles' Welsh estate, Llwynywermod.
In 2014 Annabel contributed to a piece in The Telegraph which named her as one of the 10 most influential and famous British female designers. She explained that when it comes to designing for someone else she believes there's "no such thing" as having either good or bad taste.
"There's no such thing as good or bad taste. I always use something a client already has and loves – it may be a painting or a rug – and tap into that," she explained, before adding that she had "no formal training" whatsoever.
Annabel expressed her belief that her background as an antiques dealer helps to give her "an appreciation of combining old and new".
She said, "I believe in adapting, recycling, and taking yourself with you when you move. It's extraordinary how in London, particularly, people seem to buy houses and chuck out everything. A room needs a sense of having evolved."
Where does Annabel Elliot live?
Whilst her older sister might divide her time between spectacular royal residences including Clarence House, Windsor Castle and Highgrove House, Annabel Elliot is believed to still be living in the Stourpaine, Dorset home she shared with her late husband Simon. It's in this beautiful English county that the couple raised their three children and she launched her interior design business.
Emma is a Senior Lifestyle Writer with six years of experience working in digital publishing. Her specialist areas including literature, the British Royal Family and knowing all there is to know about the latest TV shows on the BBC, ITV, Channel 4 and every streaming service out there. When she's not writing about the next unmissable show to add to your to-watch list or delving into royal protocol, you can find Emma cooking and watching yet more crime dramas.