King Charles and Camilla try out new role ahead of coronation as monarch gives classic warning
King Charles and Camilla loaned their voices to something special ahead of coronation day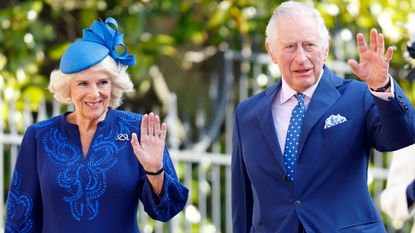 (Image credit: Getty Images)
King Charles and Queen Camilla tried their hand at an unlikely role ahead of the coronation this week, with the new monarch offering an iconically British warning.
---
With millions of royal fans around the world set to tune in to watch the coronation from around the world this weekend, King Charles and Queen Camilla have graced the London Underground with a special recording after the pair took on a new task.
With the city of London expected to be packed with those celebrating the coronation over the weekend, those taking a ride on the tube may hear a special announcement from the new King himself.
Teaming up with Transport for London, King Charles and Queen Camilla lent their voices to a recording that will be played across the TfL network this weekend, with King Charles sharing a classic warning that London goers will be very familiar with.
"My wife and I wish you and your families a wonderful coronation weekend," King Charles begins in the sound bite.
"Wherever you are traveling, we hope you have a safe and pleasant journey," Queen Camilla adds.
King Charles then goes on to say, "And remember, please mind the gap."
While some royal fans were thrilled by the announcement, some others were unfamiliar with the phrase 'mind the gap' and were curious to understand its meaning.
The safety warning refers to the gap that forms between the train and the platform as it arrives in the station, with the words having become associated with the London Underground over the years.
This comes after the Prince and Princess of Wales took a trip on London's new Elizabeth Line, opened by Queen Elizabeth II herself last year.
Prince William and Princess Catherine hopped on the famously purple line to travel to their official appearance in London's Soho yesterday, with Catherine looking incredible in a poppy red coat that's perfect for spring.
The royal duo met with royal fans, Londoners and local members of staff - they even tried their hand at pulling pints at the Dog and Duck pub and sat down for a chat over a beer with members of the community.
Kate and William also shared a few insights into life ahead of coronation weekend, with the pair sharing their excitement and Catherine admitting there is a "mix of nerves and anticipation" among the Wales family.