Princess Catherine's 'mother hen act' in lead up to coronation as she juggles Prince George's nerves and Louis's behavior
Princess Catherine is said to be 'juggling' mom life with coronation prep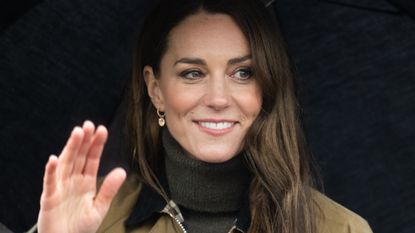 (Image credit: Getty Images)
Princess Catherine will be 'juggling' her responsibilities as a mom as well as her royal duties in the lead up to the coronation, according to a royal expert.
With King Charles III's coronation just days away, a royal expert predicts that Princess Catherine is busy juggling a 'mother hen act' with royal duties.
The Princess of Wales has parental responsibilities on her plate as well as coronation prep and engagements this week.
With preparations for King Charles's coronation well underway, a royal expert has predicted that Princess Catherine will be busy with lots of family duties plus lots of royal responsibilities.
With the Prince and Princess of Wales, as well as Prince George, Princess Charlotte and Prince Louis, set to play a key part in the coronation proceedings, it's thought that Kate, who lives at Adelaide Cottage with William and the kids, will be taking on a 'mother hen' role in the lead up to the big day, in order to prepare her kids for what is to come.
With young Prince George preparing to help with carrying his grandfather's robes during the coronation procession as part of his role as a Page of Honor, royal journalist says that Catherine is likely helping to calm the nerves of her youngest son.
Meanwhile, the mom-of-three is said to be hoping that lively Prince Louis, who marked his fifth birthday last week, will be on his best behavior.
Speaking to OK!, royal expert Jennie explained that Catherine's busy schedule hasn't stopped after Princess Charlotte's birthday celebrations.
"The Princess of Wales will have been celebrating Charlotte's eighth birthday earlier this week - they had that lovely trip to the ballet - but that will have taken priority," she told the publication, adding, "She'll also be juggling getting the kids to school and any jobs that she's got to do or engagements this week."
"Catherine will be gently preparing her children for the big day. It is probably quite hard to get across to a five-year-old - and a very lively five-year-old at that - exactly what is going to be happening and how long he's going to have to behave himself and be quiet," Jennie said of Prince Louis, who had some famously cheeky moments at the 2022 Platinum Jubilee.
"She'll be keeping her fingers crossed for that and just gently calming any nerves that George might be feeling. I think she'll be doing a sort of mother hen act," the royal correspondent continued.