Will Prince Philip have a state funeral due to COVID-19 restrictions?
Details are still emerging...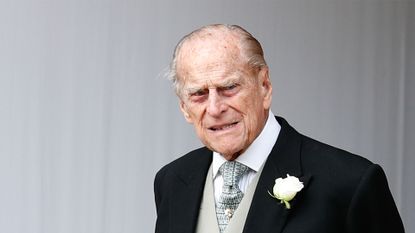 (Image credit: ALASTAIR GRANT /Getty Images)
Prince Philips' funeral was originally expected to be a state royal ceremonial funeral with a military procession.
However, the tragic death of the Duke of Edinburgh today at the age of 99 has raised questions about how COVID-19 will affect the proceedings.
It is thought that the Duke, who was married to the Queen for 73 years, will not lie in state and that there will be no state funeral at his insistence.
Instead, it is thought that he has requested a military funeral with a private service likely to be held at St George's Chapel at Windsor Castle - although it is unclear how COVID-19 restrictions will affect the funeral service and the number of mourners allowed to attend.
Had the Duke of Edinburgh requested a state funeral, it would have likely involved a military procession to Westminster Abbey where his body would lie in state for members of the public to pay their respects. A service at either Westminster Abbey or St Paul's Cathedral would have followed, before burial in St. George's Chapel.
The announcement of Prince Philip's death came today after a month-long stint in hospital recovering after heart surgery.
An official statement from Palace read, "It is with deep sorrow that Her Majesty The Queen announces the death of her beloved husband, His Royal Highness The Prince Philip, Duke of Edinburgh.
"His Royal Highness passed away peacefully this morning at Windsor Castle.
"Further announcements will be made in due course.
"The Royal Family join with people around the world in mourning his loss."
The Royal family have united on social media to pay their respects and according to royal protocol, the Queen will now enter eight days of mourning.
Where will Prince Philip be buried?
Prince Philip is expected to be buried in Frogmore Gardens, in the grounds of Windsor Castle.
Union flags will now fly at half-mast on royal buildings where the Queen is not currently residing - the royal standard never flies at half-mast.
In normal times, there would be a procession through the streets of London, and another in Windsor. The funeral itself would be held in Windsor, while a military procession would take place from St James's Palace up The Mall before the coffin is taken to Windsor.
At this point, the date, time and location of the funeral are yet to be confirmed. However, the day itself is likely to be televised around the world.
Fiona Embleton is a beauty writer who is now Acting Beauty Editor at Stylist. She is obsessed with Isabel Marant and cats.