Unearthed video of young Kate Middleton shows her marking huge life milestone
Sweet footage of young Kate Middleton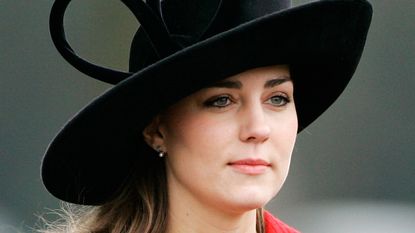 (Image credit: Photo by Tim Graham Photo Library via Getty Images)
A rare unearthed video of young Kate Middleton shows the Duchess of Cambridge marking a huge life achievement at the same place she met Prince William.
---
A video shared on a Kate Middleton Instagram fan page shows the moment the Duchess of Cambridge graduated from St. Andrews University back in 2005, six years before she married Prince William in April of 2011.
Of course, Kate and William were an item at the time of her graduation, having met during their time at the Scottish university, and the future King graduated on the same day.
Kate left college with a 2:1 Bachelor of Arts degree in History of Art while William achieved a 2:1 in his Bachelor of Arts Geography degree—and Her Majesty the Queen even came along to watch her grandson graduate.
The sweet, rare footage of Kate accepting her degree, wearing her graduation gown, can be seen on Princess Kate Middleton Style, an Instagram page dedicated to the Duchess.
The video shows her being called by her name, Catherine Middleton, before walking up to accept her honor from the prestigious university.
Before the royal couple made the likes of Kensington Palace and Amner Hall their homes, they shared a flat at university and Kate famously joked about William's chaotic student cooking in their 2010 engagement interview.
"He did cook for me quite a bit at university, and he would always come with a bit of angst and a bit of anger if something had gone wrong and I would have to wander in and save something that was going," Kate laughed during the iconic chat, during which she debuted her sapphire and diamond engagement ring, that once belonged to Princess Diana.
"When I was trying to impress Kate I was trying to cook these amazing fancy dinners and what would happen was I would burn something, something would overspill, something would catch on fire and she would be sitting in the background trying to help, and basically taking control of the whole situation, so I was quite glad she was there at the time," William added.
Last month, Kate and William returned to Scotland and received a trip down memory lane as they paid a visit to St. Andrews, where they met two decades ago.
Sharing just how much the place where the Cambridges' iconic bond was first formed, Prince William gave a romantic nod to Kate with a sweet speech during the visit.
"It was here in Scotland, twenty years ago this year, that I first met Catherine," he said.
"Needless to say, the town where you meet your future wife holds a very special place in your heart."
Detailing how they are making sure the Cambridge children know the value of Scotland in their lives, William referred to how their little ones have spent time with their great-grandparents, the Queen and Prince Philip, at the royal residence of Balmoral Castle.
"Needless to say, the town where you meet your future wife holds a very special place in your heart. George, Charlotte and Louis already know how dear Scotland is to both of us, and they are starting to build their own happy memories here too."