The royal rule that means George, Charlotte and Louis have different surnames to Archie and Lilibet
Prince George, Princess Charlotte and Prince Louis don't share the same name as their cousins, Archie and Lilibet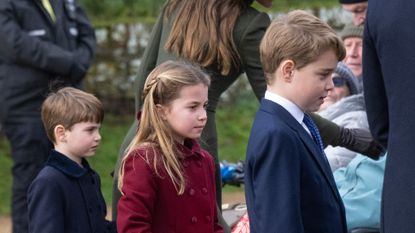 (Image credit: Getty)
Prince William and Prince Harry's children do not share the same surname due to a surprising old royal rule.
Prince George, Princess Charlotte and Prince Louis have different surnames to their cousins Archie and Lilibet.
This is due to a surprising royal rule made by The Queen and Prince Phillip back in 1960.
---
There is royal rule that means Prince George, Princess Charlotte and Prince Louis don't have the same surname as their cousins.
Followers of the family will know that Prince William and Kate Middletons's children all have the last name 'Wales', taking after their dad's new title, the Prince of Wales.
This means that at their school, Lambrook, the young royals are known by their full names George Wales, Charlotte Wales and Louis Wales.
However, the reason Prince Harry and Meghan Markle's children - Archie and Lillibet - don't share the same name dates all the way back to 1960.

The rule was originally decided by the late Queen and Prince Philip, who wanted their own direct descendants to be different from the rest of the Royal Family.
So the Privy Council went on to declare that the Queen's descendants would carry the name of Mountbatten-Windsor.
However, the exception to this rule is that anyone with a title of Prince or Princess wouldn't get that name, but would be named after their titles instead.
This is why the Prince and Princess of Wales' children aren't called Mountbatten-Windsor, and Prince Harry's kids are.

When Archie was born in May 2019, Buckingham Palace revealed that his full name was Master Archie Harrison Mountbatten-Windsor, while his younger sister Lilibet Diana also uses the same surname.
When the brothers were children themselves, they went by the surname 'Wales' at school and their time in the army due to their dad King Charles' title at the time.
After William and Harry got married, they were given new titles by the Queen, and used the names Cambridge and Sussex respectively.
Elsewhere in the royal family, Princess Eugenie and Princess Beatrice also use the surname 'York' after their father, Prince Andrew, the Duke of York.
Naomi is a news and lifestyle journalist and digital content creator with bylines in The Independent, The Sun, Cosmopolitan, and Fabulous. She covers a range of topics and currently works at Heart Radio in London.