Sarah Ferguson reveals the Queen's vital piece of advice to her
The Queen was 'more of a mum' to the Duchess of York than her own mum, she has claimed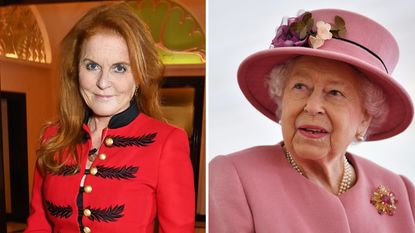 (Image credit: Getty Images)
Sarah Ferguson has opened up about 'growing closer' to the Queen during the few years before her death.
The Duchess of York has revealed the Queen's vital piece of advice to her before she died, as well as opening up about their bond.
In a tell-all interview with The Telegraph (opens in new tab) earlier this week, Sarah Ferguson revealed her relationship with the late monarch grew stronger over the last few years.
When asked what the best advice she ever gave her was, the royal replied, "Be yourself, Sarah. All anyone wants is for you to just be yourself.
"I've always found that hard. It's taken me this long to get there."

During the interview, Sarah went on to say she and the late Queen Elizabeth bonded during dog walks over the years.
"She was able to completely and utterly dilute chaos," the Duchess continued.
"And still carry on. And still smile. And still go through everything that she went through."
Opening up about how she 'understood but never judged', Sarah added, "I've always admired and adored her. Really, she was more of a mother to me than my mother."
In another interview, Fergie told PEOPLE (opens in new tab) that the Queen was her 'idol' and always knew how to 'make people feel good'.
"She was so brilliant at putting you at ease," she said, continuing, "She had the most incredible faith of any single person I've ever met.
"She just knew what to do. She knew how to make people feel good. She never took it on board as about her. It's about the monarchy, about making someone feel good. She was my total idol."
Elsewhere in the chat, the royal revealed she can't wait to be a part of King Charles' coronation on May 6.
The coronation of the King and Queen Consort will take place at Westminster Abbey on the Saturday morning, conducted by the Archbishop of Canterbury.
The palace's statement confirmed the historic ceremony will "reflect the monarch's role today and look towards the future, while being rooted in long standing traditions and pageantry."
Opening up about the big day, Sarah said, "I think it's very British, and it's very exciting. I love the institution of monarchy, and I believe in upholding the institution."
Naomi is a news and lifestyle journalist and digital content creator with bylines in The Independent, The Sun, Cosmopolitan, and Fabulous. She covers a range of topics and currently works at Heart Radio in London.