How the Queen's corgis' new owner is helping them cope with the loss of the late monarch
The Queen's corgis have been adopted by Sarah Ferguson, who is trying her best to help them adapt to their new home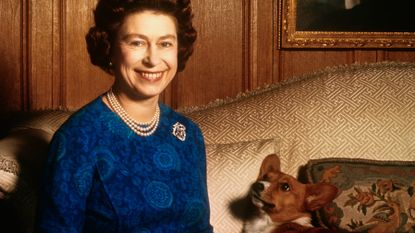 (Image credit: Getty Images)
Sarah Ferguson has opened up about the little things she does to help the Queen's two corgis, Muick and Sandy, cope with the loss of the late monarch.
---
Sarah Ferguson has revealed what she does to help the Queen's corgis, Muick and Sandy, remember her and help to cope with her passing.
In a new interview with The Telegraph, Sarah has opened up about her relationship with the late monarch and explained how the dogs are settling into Royal Lodge since Her Majesty's passing in September 2022.
Revealing one little thing she does for the cute pooches to help them feel at home, Sarah said, "Every day I look at Muick and Sandy and want to say, 'It's all right.'
"HM used to give them little bits of digestive biscuits, so after lunch now I'll crack up a biscuit for them and deliberately make that same noise."
The Duchess and the late Queen Elizabeth enjoyed long chats on their regular dog walks over the years, and Sarah has revealed how she loved the Queen's ability to "listen and never judge."
"She was able to completely and utterly dilute chaos," she explained. "And still carry on. And still smile. And still go through everything that she went through."
Sarah added, "But I've always admired and adored her. Really, she was more of a mother to me than my mother."
The Queen owned around 30 corgis and dorgis during her lifetime and was such a well-known fan of these dogs that the breed has now become synonymous with royalty and Her Majesty herself.
In another interview this week, Sarah opened up about how the pooches are finding life at Royal Lodge. She said, "They are national icons, so every time they run chasing a squirrel, I panic."
Sarah even explained how she feels there is a deeper meaning behind their barking at nothing, hinting that it could be the Queen's presence.
"They're total joys, and I always think that when they bark at nothing, and there's no squirrels in sight, I believe it's because the Queen is passing by," she said. Sarah also added, "They're with me a lot, and they think I'm very funny."
Sarah, who also owns five Norfolk terriers, said a month after adopting the dogs that they were "national treasures" and said that it was "a big honor" to be caring for them.
She said of the many dogs she now owns, "They all balance out, the carpet moves as I move, but I've got used to it now."
Prince William reassured mourners following the Queen's death that the corgis were being "spoiled rotten." He said, "They're going to be looked after fine, they're two very friendly corgis and they've got a good home."
Robyn is a celebrity and entertainment journalist and editor with over eight years experience in the industry. As well as contributing regular to woman&home, she also often writes for Woman, Woman's Own, Woman's Weekly and The Sun.