The food Kate Middleton 'wouldn't dream' of giving to George, Charlotte and Louis as she doesn't want 'normal' childhood for them
A new royal book delves into Princess Kate's parenting style and what she refuses to feed her children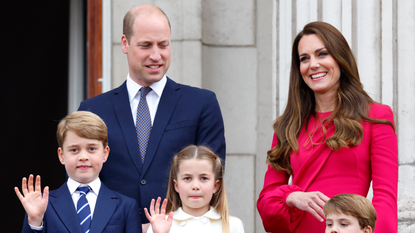 (Image credit: Max Mumby/Indigo / Contributor)
Back in 2019, a former royal family aide made headlines when he revealed that princess Diana used to take her sons William and Harry to McDonald's regularly to give them a semblance of normalcy. Turns out, Kate Middleton is the exact opposite of that and "wouldn't dream of taking" her children to the fast food chain, according to a new book.
Royal author Tom Quinn dissects Kate's parenting style in a new book.
In Gilded Youth, the author claims that Kate "wants to escape her middle-class childhood" and "makes no effort to bring the children down to earth.''
It's no secret that Princes William and Harry were regularly treated to fast food while they were younger. In 2019, a former aide went public about Diana's efforts to give her kids a "normal" life by treating them to meals at McDonald's.
"I remember the Princess came into the kitchen one day and said 'cancel lunch for the boys I'm taking them out, we're going to McDonald's,'" former royal chef Darren McGrady told Marie Claire (opens in new tab) back in 2017. "And I said, Oh my god your royal highness, I can do that, I can do burgers.' And she said, 'No, it's the toy they want.' Yeah, the boys loved McDonald's, and going out to pizza, and having potato skins - sort of the American foods. They were royal princes but had children's palates."
Princess Diana herself liked to indulge in similar culinary appetites, as once recalled by her former butler, Paul Burrell. The aide revealed that, on Saturdays, the Princess would eat chips and a Big Mac while watching a reality TV show.
Turns out, though, that Princess Kate does not share the same parenting style as her late mother-in-law.
In his new book, Tom specifically claims that "Kate makes no effort, unlike Diana, to bring the children down to earth, because she doesn't want them to have a 'normal' childhood in the sense that Diana wanted it for William and Harry."
According to the author, the Princess feels like Diana's parenting style spurred a sense of dissatisfaction with royal life in the likes of Harry - hence her attempts to stay far away from it.
Going even more in depth, the royal expert claims that Kate is more than willing to have 9-year-old Prince George, 7-year-old Princess Charlotte and 4-year-old Prince Louis actually enjoy and benefit from the "luxuries and privileges of a royal upbringing."
As a result, he writes, the Princess "wouldn't dream of taking [the kids] to McDonald's" and "doesn't rock the boat" over royal protocol, like her husband's mother once did.
Everyone has their own parenting style, after all, and who are we to judge?
Anna Rahmanan is a New York-based writer and editor who covers culture, entertainment, food, fashion and travel news. Anna's words have appeared on Time Out New York, the Huffington Post, Fortune, Forbes, Us Weekly, Bon Appetit and Brooklyn Magazine, among other outlets.