The Duchess of Cornwall reveals what's on her summer reading list
How many have you read?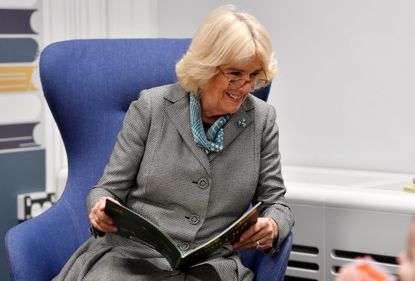 (Image credit: Getty Images)
Duchess Camilla has revealed her favourite books for a summer staycation.
The Duchess of Cornwall delighted royal fans with her top summer reading recommendations, saying she hoped they could provide "a welcome bit of escapism", whether you're preferred reading tool is a heavy hardback or one of the best eReaders out there.
Camilla previously shared a reading list at Easter for those isolating at home. This time her diverse list spans classics, mysteries, and historical and contemporary fiction.
________________________________________________________________________________________
The Duchess of Cornwall has treated fans to an insight into her favourite books, by releasing a list of her top summer reading recommendations.
The Duchess is a voracious reader, and is patron of a number of literary organisations; including the Royal Society of Literature, National Literacy Trust, BookTrust and Coram Beanstalk.
In a statement released by Clarence House, The Duchess said of her multi-genre list, "I am delighted to share a few more of my favourite books."
Camilla also quipped about this year's cancelled holiday plans, joking, "At present, it might be ambitious to describe them as 'beach reads', but I very much hope they provide a welcome bit of escapism."
Alongside each of her summer reading recommendations the Duchess gave a brief explanation as to why she had chosen them.
Included in Camilla's top picks is Girl by Edna O'Brien, which won its 89-year-old author the Kerry Group Irish Novel of the Year award. The bestselling novel unflinchingly envisions the lives of the young girls abducted by Boko Haram in northeast Nigeria.
Another bestseller on the Duchess' diverse list is Victoria Hislop's historical novel The Island, published in 2005.
There's even a small royal nod to her mother-in-law The Queen among the list of recommendations...
Check out the Duchess of Cornwall's top five summer reading recommendations, and why she chose them.
The Woman In White by Wilkie Collins
The Duchess of Cornwall said: "A menacing and mysterious tale spun by this great Victorian writer with a penchant for drama."
Girl by Edna O'Brien
The Duchess of Cornwall said: "This brilliant Irish novelist lays bare the trauma of Nigeria's abducted schoolgirls in this harrowing novel."
Roy Grace series by Peter James
The Duchess of Cornwall said: "If you have never read Peter James' crime thriller series about the Sussex detective, Roy Grace, I would highly recommend you give it a try!"
The Queen's Necklace by Alexandre Dumas
The Duchess of Cornwall said: "A thrilling mystery about a missing diamond necklace. An epic tale of love and hatred, betrayal and courage, set at the court of Louis XVI."
The Island by Victoria Hislop
The Duchess of Cornwall said: "An evocatively told story of four generations rent by war, illicit love, violence and leprosy, from the thirties, through the war, to the present day."
Well it's clear that she's a woman of taste. How many have you got on your bookshelf?
Kate is a freelance contributor to woman&home, covering everything she loves most: fashion, fiction, and fancy face cream. If she's not working, she's probably reading, feeding her online shopping addiction, or judging the taste level of celebrity houses (10/10 for Dakota Johnson, 2/10 for Tan France).

She graduated from Central Saint Martins in 2020 with a BA in fashion journalism, and her byline has also appeared in British Vogue, The Times, and Marie Claire.