The bizarre rule that originally put the Queen's Sandringham estate in a different time zone
Sandringham used to have its own time zone, separate to the rest of the country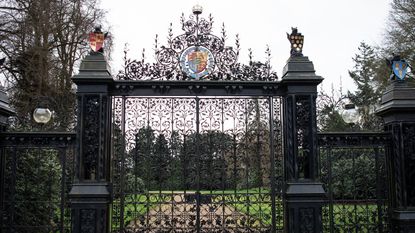 (Image credit: Leon Neal/Getty Images)
A bizarre, forgotten rule used to mean that the royals would find themselves in an entirely different time zone to the rest of the country when staying at some of their residences. Sandringham time zone was 30 minutes ahead of Greenwich Mean Time, and this rule was later adopted at other royal estates.
There was a time when royal residences were 30 minutes ahead of Greenwich Mean Time across the United Kingdom
The bizarre rule was introduced as a way for Edward VII, then Prince of Wales, to make the most of winter daylight hours
---
The Royal Family are known for their eccentricities and peculiar set of rules and protocols.
From the Queen's bath to the bizarre sandwich rule that stops Her Majesty from being overthrown, nearly every part of a royal's life is regimented.
However, there are some outdated royal rules that Her Majesty hasn't quite kept in place, and one such rule was King Edward VII's insistence on there being a separate time zone for royal residences like Sandringham House.
Sandringham is one of two personal and private residences owned by The Royal Family, unlike the Royal palaces that belong to the Crown, and is one of the Queen's favorite residences to whisk away to for a countryside break.
The Norfolk residence is also where the family spend Christmas together.
Now, the reason Sandringham was on a separate time zone dates back to the eldest son of Queen Victoria, Edward VII.
Before he was king, he was the Prince of Wales and an avid lover of outdoor sports.
With his well-known love for hunting and other outdoor pursuits, he decided to make the most of winter daylight hours and change the time zone just for the royal estate.
So Sandringham Time became a thing, and it was half-an-hour ahead of the rest of the country – even the Norfolk town just outside of the estate.
Amusingly, there are some historical sources who allege the change of the clocks could also have been introduced as Edward's wife, Alexandra of Denmark, was always late, though this cannot be verified.
This bizarre rule was also later adopted at Windsor Castle and at Scotland's Balmoral Castle and the rule stayed in place after Edward VII's death and throughout the reign of George V.
Perhaps seeing some sense, considering it was said to have confused and infuriated other members of the royal family, Edward VIII abolished it during his brief reign before famously abdicating to marry American divorcee Wallis Simpson.
Neither George VI nor Her Majesty the Queen have chosen to reinstate it.
Jack Slater is not the Last Action Hero, but that's what comes up first when you Google him. Preferring a much more sedentary life, Jack gets his thrills by covering news, entertainment, celebrity, film and culture for woman&home, and other digital publications.
Having written for various print and online publications—ranging from national syndicates to niche magazines—Jack has written about nearly everything there is to write about, covering LGBTQ+ news, celebrity features, TV and film scoops, reviewing the latest theatre shows lighting up London's West End and the most pressing of SEO based stories.