The royal protocol rules the royal family have to follow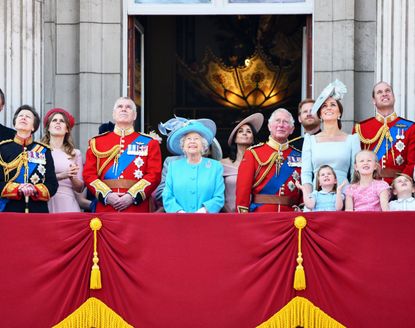 Being a member of the royal family certainly isn't all glitz and glamour, tiaras and palaces - no - as one of the most influential families in the world, there are actually some pretty serious rules they need to follow too.
As the monarchy is steeped in tradition and formality, its members - including everyone from Meghan Markle to Prince Charles - should often follow strict codes of conduct.
And rarely, the only member of the family exempt from these rules is the monarch herself - Queen Elizabeth II.
So which royal protocol rules should the family always follow?
Bowing to the Queen
Although the rest of the royals are also Prince and Princesses, Duke and Duchess's, there's one person to whom they must all bow down to - literally.
Royal etiquette dictates that all members of the family must either bow or curtsey to the Queen, be it in public or in private, if it is the first time they have seen her that day. This is because she is the monarch, and so outranks all other members of the family.
Traditionally, other members of the royal family should also bow or curtsey to one another if they encounter someone who outranks them in the line of succession. However, this rule is amended if any of the royal wives - Camilla, Meghan or Kate - are without their husband.
So for example, Prince William would always bow to Prince Charles, Camilla, and the Queen.
In another instance, Meghan, Eugenie and Beatrice would have to curtsey to the Duchess of Cambridge, but only if she is with her husband William, who outranks the three women. However, if he was not present, rules may suggest that they would not need to curtsey.
The official Royal Family website, royal.uk, explains, "There are no obligatory codes of behavior when meeting The Queen or a member of the Royal Family, but many people wish to observe the traditional forms.
"For men this is a neck bow (from the head only) whilst women do a small curtsy. Other people prefer simply to shake hands in the usual way."
Travelling separately on planes
Royal protocol traditionally dictates that two royal heirs should not travel together on the same plane, in order to protect the royal lineage should the very worst ever happen.
However, this is an unofficial rule, and has been broken many times within the Cambridge family. Prince William, third-in-line to the throne, has flown many times with Prince George and Princess Charlotte, respectively, fourth and fifth in line to the throne.
But it's thought that the Duke of Cambridge will have had to obtain permission from the Queen to travel with his young children. It's rumoured that he first asked permission to disregard the rule in 2014, when he and Catherine headed off to Australia on an official tour, with a nine-month-old Prince George in tow.
No selfies with fans
While the royal family are undoubtedly as popular and as famous as Hollywood a-listers and pop stars, they aren't technically allowed to take selfies with fans during royal walkabouts.
Back in November, on her very first royal engagement, Meghan Markle told awaiting fans that she was told that she wasn't allowed to take selfies with fans.
At the time, 63-year-old Barbara Miller told OK! magazine what Meghan told them.
"She said thank you very much for braving the cold.
"I said 'can we have a selfie?' and said 'we're not allowed to do selfies'."
Prince William has revealed a similar thing in the past, joking with fans in Poland, "I'm allergic to selfies". And apparently, the reason behind the rule is more simple than it seems.
According to former US ambassador Matthew Barzun, speaking to Tatler, the Queen is not a fan of the new photo-taking method, revealing she finds it 'strange' and 'disconcerting'.
However, fans often catch the royals unaware in a selfie - and so there a few unexpected royal selfies out there!
Serving in the military
This one isn't so much a royal protocol rule - more a royal expectation.
As a member of the royal family, it's expected that all males will provide some sort of military service during their life, as a way of giving back to their country.
And all current senior members of the royal family appear to had adhered to this rule. Prince Harry served as a member of the Army Air Corps for 10 years, and has spoken extensively about the experience. Prince William also served with both the Royal Navy and the Royal Air Force, and later, worked as a military helicopter pilot.
.
Prince Charles also followed in the family tradition serving in the navy and in the Royal Air Force, while Prince Andrew is also a commander and Vice Admiral in Royal Navy, within which he has served many years of active duty.
Of course, it's not yet clear whether Prince George and little Prince Louis will contiue with their father and uncle's traditions - but it seems highly likely that they will have some military involvement.
No shellfish
A rumour that has long flown around royal circles is that the family are banned from eating on thing in particular when out on royal engagement - more specifically, royal tours abroad.
According to the BBC, the family actively stay away from seafood/shellfish when they are away on royal trips, in order to reduce the risk of food poisoning and sickness.
A pretty smart move, considering how awful food poisioning can make you feel! However, this is thought to be more of a royal preference, than a protocol rule.
Could you follow all of the royal family's rules?
Amy Hunt is an experienced digital journalist specialising in homes, interiors and hobbies. She began her career working as the features assistant at woman&home magazine, before moving over to the digital side of the brand where she eventually became the Lifestyle Editor up until January 2022. Amy won the Digital Journalist of the Year award at the AOP Awards in 2019 for her work on womanandhome.com.