Sophie Wessex almost received title given to Kate Middleton - but Prince Edward had other plans
Sophie Wessex very nearly got the title that went to Kate Middleton in the end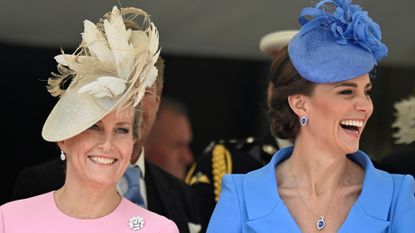 (Image credit: Getty Images)
Sophie Wessex almost received the title that eventually went to Kate Middleton when she got married to Prince Edward.
---
While Sophie Wessex is, of course, the Countess of Wessex, with Prince Edward holding the title of the Earl of Wessex, the pair very nearly became the Duke and Duchess of Cambridge.
When the happy couple, who share daughter Lady Louise Windsor, 19, and James Viscount Severn, 15, married at St George's Chapel in Windsor in June 1999, the Queen had hoped to give her youngest son the Dukedom.
However, Prince Edward and Sophie Wessex, who reside at Bagshot Park, were given a different honor after a special request was made.
Prince Edward was keen to secure the Earl of Wessex title after watching the movie adaptation of a Shakespeare classic.
In 2010, a royal courtier told the Telegraph, "Prince Edward was going to be the Duke of Cambridge, but he watched the film Shakespeare in Love, which had a character called the Earl of Wessex.
"He liked the sound of it and asked the Queen if he could have that instead."
The rest is history and it was Kate Middleton, who is now the Princess of Wales, who became the Duchess of Cambridge when she and Prince William became husband and wife in April 2011.
Following the deaths of Prince Philip in April 2021 and Her Majesty Queen Elizabeth II in September 2022, Prince Edward and Sophie Wessex are thought to be preparing to take on special new titles.
While it was rumored that King Charles III had planned to give his granddaughter, Princess Charlotte, Prince Philip's former Duke of Edinburgh honor to make her the Duchess of Edinburgh, it's now thought he will grant his brother the iconic title.
It's been claimed that King Charles has had a "change of heart" over the Edinburgh title decision, altering his plans over who will inherit it from his late father, amid reports that Edward saw his brother's plans to give Charlotte the title as a "slap in the face".
"Because the Queen had promised him the title before she died and it was always believed by Edward and Sophie that, in time, the title would then be passed down to their son, Viscount Severn," a royal source close to Edward is said to have told the Daily Mail.
"Now it does look like the tide is turning. Clearly the King has had time to reflect on the late Queen's wishes."