Queen Camilla receives very special note with important invitation for Princess Charlotte
Queen Camilla was asked to pass on a special invitation to Princess Charlotte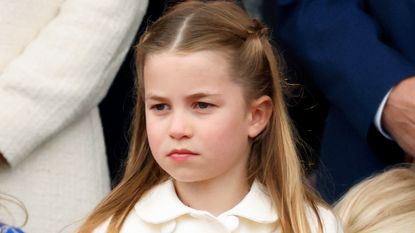 (Image credit: Getty Images)
Queen Camilla was given a special invitation for Princess Charlotte by a little royal fan when she stepped out on a solo royal engagement in London on Thursday.
---
Camilla paid a visit to the STORM Family Centre in London in order to meet with people impacted by domestic violence.
The charity, which is marking its 19th anniversary, has helped over 3,000 women and 1,000 children since it was launched and the Queen Consort made an appearance to meet with and chat to staff members as well as domestic abuse survivors.
As Camilla, who wore a lucky dove brooch and a sophisticated pinstripe coat dress for the outing, sat down for tea with people are the centre, she was approached by a little girl named Charlotte who was hoping to nab herself a playdate with Princess Charlotte.
Eight-year-old Charlotte, who is called Charlie-Rose by her family, passed a note to Camilla with some sweet words for Princess Charlotte, her step-granddaughter, written on.
Revealing that she had requested that Camilla pass the letter on to Princess Charlotte in the hope that she would be able to join her at Adelaide Cottage, Charlie-Rose said, "She said she would give my note to Charlotte, I'm hoping she'll agree, you never know. I think I'll go to her house."
Charlie-Rose's dad, Wayne Hickson, shared details of what his little girl had penned in the note to the young Princess, who is third in the line of succession.
Wayne revealed, "The note read, 'Dear Princess Charlotte, My name is Charlotte-Rose and I'm eight.'
"It said her primary school and where we lived and said did she fancy a play date. It ended with, 'Here's my phone number, hopefully you will, love Charlie-Rose'."
Explaining that he had urged his daughter to pluck up the courage to pass Camilla the invitation, Wayne continued, "She asked me about it a few weeks ago and I said what did she have to lose? She was almost too scared to do it this morning but then got the courage to do it. She was quite nervous though."
Luckily, kind Camilla assured Charlotte that she would deliver the note to the Princess, with Wayne adding, "Camilla told her that she liked her dress and she would pass the note on for her."