Inside Princess Beatrice's new life as it's speculated she will take over from Prince Harry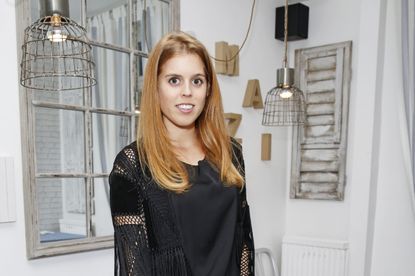 As the Duke and Duchess of Sussex and Prince Andrew all step down from royal duties, we take a look at the family member most likely to fill their place.
Princess Beatrice may become a working member of the royal family.
It comes after Prince Harry and Prince Andrew both stepped down from royal duties.
Beatrice was due to wed Edoardo Mapelli Mozzi this month, before the COVID 19 outbreak forced them to postpone.
Sources say the couple are coping well with the change, explaining "They aren't even thinking about their wedding at this time." And, according to royal expert Duncan Larcombe she may soon have plenty to distract her.
Royal vacancy
Now that Harry, Meghan and Andrew have all officially withdrawn from royal duties, there are spots to fill within the circle – and Duncan believes the Princess is perfectly suited. 'It's absolutely possible that the Queen would discuss with Beatrice whether she will be prepared to take on a few more duties and attend more official engagements,' he explains. And it isn't just the monarch who will be able to breathe a sign of relief. Duncan adds, 'The current situation puts an awful lot of pressure on the likes of the Duke and Duchess of Cambridge. They will be delighted if Beatrice expressed an interest in becoming a working royal.'
Not your average Princess
As well as having a wide range of celebrity pals including Kate Moss and Ayda Field Williams, Beatrice has a reputation as a fun-loving member of the royal circle. 'Beatrice is a very popular member of the Royal Family. William and Harry are very fond of her,' Duncan says. 'She ran the London Marathon once dressed as a caterpillar, which is slightly different from Her Majesty's approach.' Beatrice could also follow in her mother Sarah Ferguson's footsteps. She previously revealed she admired the duchess' attitude, saying, 'I am lucky that I get to learn from her every day. I'm inspired by her ability to give, even when she's going through something hard.'
Perfect timing
The potential step up couldn't have come at a better time for Beatrice amid the on-going coronavirus pandemic. Following the Queen's televised speech, Duncan believes the Royal Family will be needed more than ever, saying, 'The Royal Family will be thrown into overdrive to try and help the nation recover. It will be very much all hands to the pump.' However, it's likely the added work will come at a cost as key financial factors – including the Royal Protection Bill in which Beatrice and sister Eugenie were previously not included – will need to be revaluated. 'If she did start covering in Harry and Meghan's absence, I think they would have to look at that again,' he explains.
Scrutiny
With Prince Andrew's involvement with convicted sex offender Jeffrey Epstein causing the duke to step down from royal life, it seems a new role for Beatrice would come with reservations. Duncan admits, 'It has been deeply upsetting for Beatrice and Eugenie. No one likes to see their dad be public enemy number one.' Harry and Meghan have had their issues, too. So, has the Princess got what it takes? 'Beatrice will have to decide whether she wants to put herself up to the levels of scrutiny that comes with being a working member,' Duncan concludes. 'Although it might be good for Andrew if Beatrice steps up to the plate.'
Robyn is a celebrity and entertainment journalist and editor with over eight years experience in the industry. As well as contributing regular to woman&home, she also often writes for Woman, Woman's Own, Woman's Weekly and The Sun.