Princess Anne reveals the incredible way she plans to keep up with the Queen in rare interview
She spoke about her passion for riding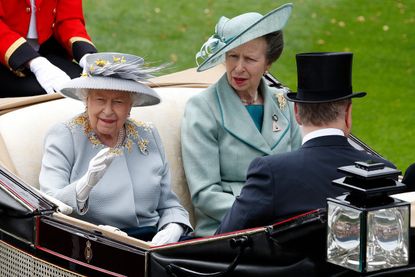 Princess Anne has revealed in a rare interview how she plans to keep up with her mother, Queen Elizabeth II.
Princess Anne has said in a rare interview she hopes to follow in her mother's footsteps and keep up her horse riding.
Queen Elizabeth II still rides at the age of 93.
The royal news (opens in new tab) comes after a video of Princess Anne went viral last week.
During an interview with Horse & Hound magazine (opens in new tab), Princess Anne spoke about her family's love of equestrian activities - particularly how her mother still rides in her 90s.
Despite Princess Anne riding regularly, the royal joked that her mother sets the standard pretty high for her family.
She said, "Well, my mother still rides at the age of 93. I don't think there would be much excuse if I didn't."
Princess Anne took up riding at a young age and became a patron for Riding For The Disabled charity in 1969 - when she was just 19 years old.
Over the years, the royal has spoken about howher passion helped her into adulthood. She told H&H, "In some ways, what we do hasn't changed at all.
"The observation that being on the back of an animal, small or large, can make a huge difference to mental and maybe physical wellbeing is as true today as it was then."
Princess Anne was the first royal to compete at the Olympics. She rode her mother's horse, Goodwill, at the 1976 games in Montreal.
But her equestrian career didn't stop there.
She competed in the European Eventing Championships in 1971, where she won gold, followed by two silvers in 1975.
She also won a silver medal for team competing at the London 2012 Olympics.
The interview comes after it was revealed that Princess Anne had a brave reply to a masked man, who tried to abduct her in 1974. (opens in new tab)
When the attacker got into her car and told her to get out, the princess replied, "Not bloody likely."
The royal also made headlines last week after a video of her went viral.
The video seems to show Princess Anne refusing to join the royal receiving line - which many interpreted to be because she didn't want to shake President Trump's hand.
Although it's now unclear whether this was actually the case!
Lizzie Thomson is a regular contributor to woman&home, and also contributes to Metro.co.uk, Ideal Home, Culture Trip, and Evening Standard, covering all things lifestyle.