Harry and Meghan and William and Catherine reportedly set to separate royal courts within weeks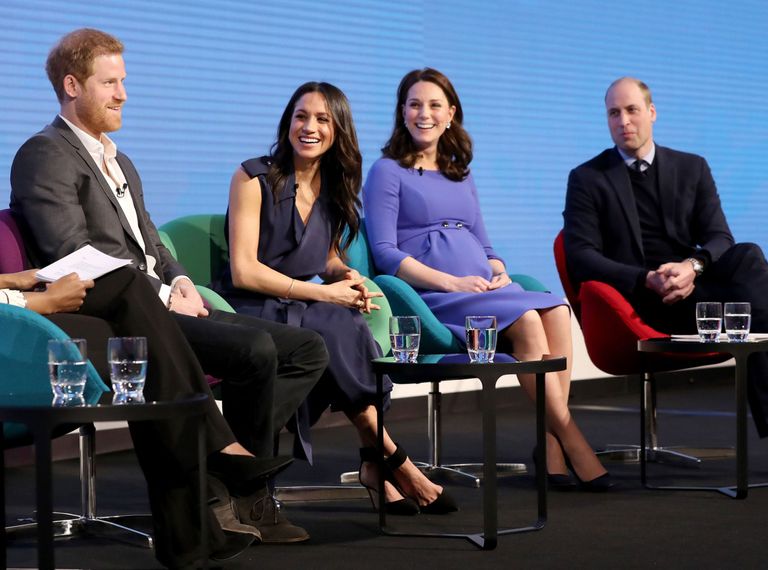 By Amy Hunt
Ever since they were born, Prince William and Prince Harry have become two of the most well-loved members of the royal family, winning over the hearts of the nation throughout their 36 and 34 years.
It's clear that the Dukes share a very close bond - heightened by their unusual circumstances - and until now, they've pretty much always come as a package deal.
But now it seems that the brothers are planning to forge separate paths after a lifetime of working closely together.
Back in October, Roya Nikkah, for The Sunday Times, reported that the Duke and Duchess of Cambridge, and the Duke and Duchess of Sussex are planning formal separation of their joint royal household, in order to reflect how both their royal roles are changing and evolving. And now, Roya has reported that the separation is set to happen within weeks, ahead of the birth of Harry and Meghan's first child.
It's thought that the Princes, alongside their wives, will divide many of their professional interests, including their communications teams, in order to reflect how the two couples do things differently.
MORE:The touching reason Prince Harry and Meghan delayed their arrival at a recent awards ceremony
It's perhaps a sensible move, given that Catherine and William, as the eventual heirs to the throne, are required to be more formal in their work - whereas Harry and Meghan, have a little more freedom when it comes to the organisations, causes and work they are able to support.
Before Prince Harry met Meghan Markle, the Duke of Sussex did much of his royal work alongside his brother and sister-in-law, Catherine.
But of course, both brothers are now married - and will both soon have their own families.
It's become clear in the months since Harry married Meghan that the royal couples are forging their own paths, and have different approaches to their royal roles - and different causes that they each want to focus on.
A source told the publication, "The brothers have leant on each other and looked after each other since their mother died. But now they have their own families, they no longer rely on each other as before."
Evidently, William and Harry are also set for two very different royal roles in the upcoming years too. As the future King, William and of course Catherine, must follow the well-trodden path towards head of state, which will require very different things from them than what will be asked of the Duke and Duchess of Sussex.
According to Roya, holding separate royal courts would mean the brothers could focus their different responsibilites - and help them gain more autonomy in supporting their own causes.
The royal brother's separation would also run alongside the two couples parting physically as well. It was recently announced that Harry and Meghan will be moving to Frogmore Cottage, in Windsor,once their baby arrives this Spring.
Following the reports back in October, royal fans seemed delighted by the prospect of two separate courts for the Sussexes and the Cambridge's. One follower wrote, 'That's really good news. I think it makes sense for both families', while another agreed, saying, 'IF this is true then it makes perfect sense. Harry and Meghan are completely different in attitude, temperament, work ethic, and values than the Cambridges.'
Many have also questioned whether the move would mean that Catherine and William, and Harry and Meghan would have separate social media accounts.
But fans of the 'Fab Four', as they have been dubbed, needn't worry, as it's thought that the Duke and Duchess of Cambridge and the Duke and Duchess of Sussex will still carry on their joint work with the Royal Foundation together, a charitable company set up by the former trio some years ago.