Prince William and Duchess Kate ban BBC from Christmas concert broadcast as tensions mount over documentary
Prince William and Kate ban BBC from broadcasting the Christmas concert that the Duchess of Cambridge is due to be hosting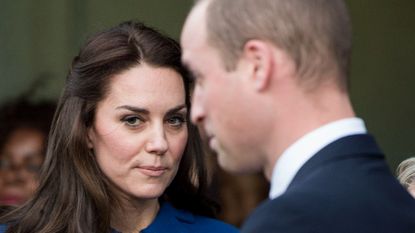 (Image credit: Mark Cuthbert / Contributor / Getty Images)
Prince William and Duchess Kate have banned the BBC from airing the Christmas concert, hosted by the Duchess of Cambridge, amid documentary fallout.
Kate Middleton is set to host a Christmas concert this year at the Westminster Abbey.
The royal couple has banned the BBC from broadcasting this charity event after a recent fallout.
---
Prince William and Duchess Kate have reportedly banned the BBC from broadcasting their charity fundraiser concert after a recent fallout over the BBC's two-part royal documentary.
The Duchess is set to host a Christmas carol concert at Westminster Abbey, and although the royals had a good relationship with the BBC who would often broadcast major events, reportedly the royals have opted for another provider. Instead, ITV will be showing the Duchess's concert.
A source told The Sun, "This is a real coup for ITV. It is a brand new format — the royals have never hosted a televised TV concert before. And to have the Duchess leading on it is a big deal."
"Naturally most royal programming goes automatically to the BBC as the national broadcaster. Now it looks like they will work more with ITV in the future."
The source revealed that ITV was delighted to receive this new show in their lineup, but the change of channel will cause issues.
"ITV were very surprised but delighted to get the late call offering them this incredible exclusive. It will be a fantastic Christmas carol concert that will be TV gold for viewers at home," said the source.
"It was all arranged to be on BBC1 but it was switched in the last few days because of the terrible row over the documentary."
"And things are likely to get a lot worse between the Royal Family and the BBC before they get better as the second part of the documentary threatens to go further."
The documentary series that has caused frayed relations, The Princes and the Press, began broadcasting on Monday night and has caused shock waves across the royal family.
Reportedly the Queen, Prince Charles, and Prince William are set to file a complaint over the documentary due to the claims made in the first episode about the relationship between Prince Harry and Prince William.
Similarly, there are reports that Meghan Markle has sent top-dog 'reputation lawyer' to address the bullying reports in BBC royal documentary, as she also joins ranks with the royal family against the BBC.
The second episode of The Princes and The Press will air at 9 pm on November 29 on BBC2.