Prince Harry's children Archie and Lilibet have not been invited to King Charles' Coronation
Prince Harry's young children, Archie and Lilibet reportedly won't be invited to King Charles' Coronation, but Queen Consort Camilla's grandchildren will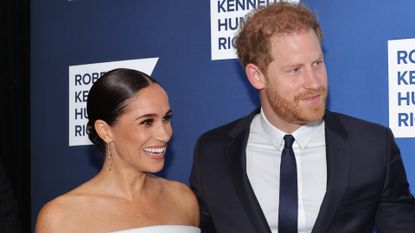 (Image credit: Getty)
Prince Harry's two children, Archie and Lilibet, have not yet been invited to their grandfather King Charles' Coronation in May.
Prince Harry and his wife, Meghan, have been invited, but their children have not.
The Sussexes have not yet confirmed whether or not they will attend the ceremony.
---
Prince Harry and Meghan Markle were invited to King Charles' Coronation in recent weeks, but it is understood that correspondence from Buckingham Palace did not mention Archie or Lilibet.
The couple have reportedly not received any information about whether three-year-old Archie and one-year-old Lilibet have been included in the plans.
In a further potential blow to the Sussexes, it's understood that despite King Charles' grandchildren not receiving an invite, Queen Consort Camilla's grandchildren will be invited and will have an official role.
According to the Telegraph (opens in new tab), the couple was told that the potential inclusion of their children will be discussed if and when they confirm their own attendance. The couple could either come together, Prince Harry could attend alone or they could both opt to stay away from the event.
When asked if Archie and Lilibet were invited to the coronation, one royal source simply noted that they were "very young," so this could be the reason why they're not invited.
Harry and Meghan will not be invited to take part in the official balcony appearance and many members of the family have no wish to socialize with the couple, according to the Daily Mail (opens in new tab).
A friend of the family apparently said, "They will be given the cold shoulder by very many relatives. One said to me, 'I hope they'll be seated in Iceland.' Many of the family just want nothing more to do with them. If they have to see them at the Coronation then so be it, but they do not want to socialize with them."
Meanwhile, the Prince and Princess of Wales' three children, Prince George, Princess Charlotte, and Prince Louis will reportedly have a prominent role in King Charles' coronation.
The coronation will be held at Westminster Abbey on May 6, with a procession leading all the way from the palace.
It's still unclear whether Prince Louis, four, is considered too young to take part in the formal event, however, he is thought to be attending the big concert with his family on the Saturday.
The snub of Archie and Lilibet is likely to add to rumors of a family feud between Prince Harry and the Royal Family.
Prince Harry infamously emigrated to California with his wife, Meghan Markle, where he planned to continue serving the Crown whilst pursuing his own independent projects. He has gone on to deliver some hefty criticism of the Royal Family, including allegations of racism against Buckingham Palace, accusations that his security was cut off, and 'generational trauma'.
He also made some bombshell revelations about the royal family in his memoir, Spare - including an allegation that William 'attacked' him - which only heightened rumors of a rift between Harry and his brother and father.
Robyn is a celebrity and entertainment journalist and editor with over eight years experience in the industry. As well as contributing regular to woman&home, she also often writes for Woman, Woman's Own, Woman's Weekly and The Sun.