Zara Tindall's 'rituals' show she is *so* different from other members of the Royal Family
Zara Tindall was spotted out and about at Cheltenham Festival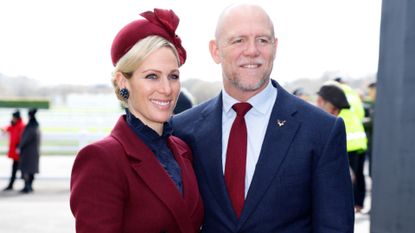 (Image credit: Getty)
Zara Tindall has been labeled the 'most gloriously tactile royal' by a body language expert following her PDAs at Cheltenham Festival.
Zara attended Cheltenham Festival on Tuesday with her husband, Mike Tindall, and some close friends.
The way Zara holds hands with not just her husband but also her friends makes her 'different' from other members of the Royal Family who are more reserved when it comes to affection.
---
Zara and Mike attended the first day of Cheltenham Festival on Tuesday, which took place at Cheltenham Racecourse. Zara was seen holding hands with her close friend Natalie Pinkham as she arrived, and later hugging horse trainer Henry de Bromhead after he won the Close Brothers Mares' Hurdle.
And body language expert, Judi James, has told Express.co.uk (opens in new tab) how this is typical of Zara, who often openly shows affection, unlike other members of the Royal Family, who rarely even hold hands in public.
She said, "Zara is always the most gloriously tactile royal who will always instigate her hugs, embraces, and hand-holding in the most natural way despite being surrounded by some of the least publicly tactile people on earth in other members of the Royal Family.
"There is a mantra about having to like yourself before you can like other people and in Zara we can always see non-verbal signals of a very ebullient, cheerful self-like and self-confidence that is lacking any apparent vanity or narcissism."
Judi added of Zara and Mike, who often hold hands in public, "Zara and Mike just seem to enjoy life and they also seem to enjoy the people around them, too."
And referencing the fact that Zara tenderly placed her hand around her husband's back as they posed for photographs at Cheltenham, Judi said, "Their poses here are very typically good-natured and honest.
"They pose together like a very natural couple who are still pretty deeply in love and lust. The balance in their signals always suggests those emotions are shared equally, as is their love of fun."
And speaking about how Zara was equally affectionate with her friends, the body language expert added that the royal's "hand-holding" and "hugging" suggest a "spontaneous desire to show affection and perhaps even a desire to signal support if necessary."
She continued, "Zara's hugs and hand-clasps would make a person feel really cherished rather than just going through the normal social motions," adding that Zara "really does seem to like other people and she does really seem to love her husband."
Judi explained that Zara's "touch and hug rituals make public statements in terms of bonding and friendships." She added, "Zara doesn't just spend time with people, she wants to define the levels of closeness as she does so."
Whereas many members of the Royal Family are very reserved when it comes to showing displays of affection in public, Judi says that Zara is very different from her family members.
"The trait seems to imply high levels of loyalty, trust and easy-going openness from Zara to her friends and family," she said. "These qualities are rare to achieve but even rarer in our current Royal Family."
Robyn is a celebrity and entertainment journalist and editor with over eight years experience in the industry. As well as contributing regular to woman&home, she also often writes for Woman, Woman's Own, Woman's Weekly and The Sun.