Prince Harry hints at how many children he and Meghan want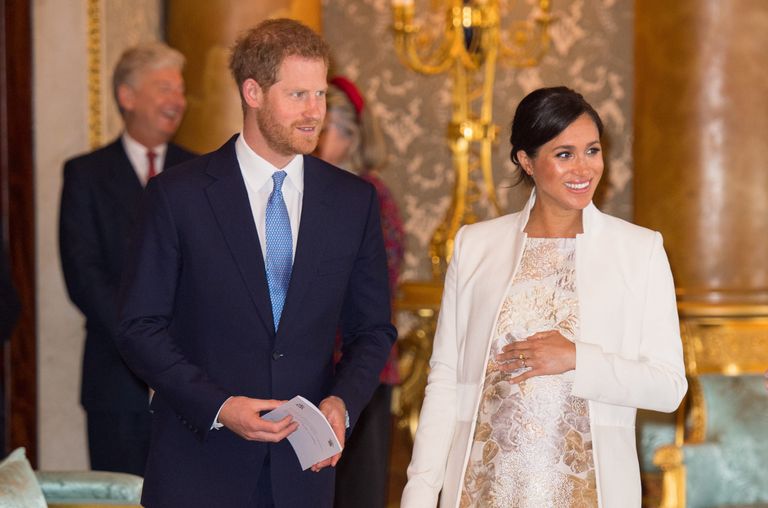 By Amy Hunt
Yesterday, the senior members of the royal family turned out in force to mark the fiftieth anniversary of the Prince of Wales' investiture.
The Queen and Prince Charles were joined by Princess Anne, the Duke and Duchess of Cambridge, Camilla, and the Duke and Duchess of Sussex to celebrate the momentous occasion.
And during a chat with some guests, Prince Harry let slip an adorable hint about the future of his and Meghan's family.
The couple were talking to a Falklands war veteran, Simon Weston, who has become well known for his charity work, when talk turned to babies.
MORE:Inside Nottingham Cottage, Prince Harry and Meghan Markle's home
Speaking to the media, Simon revealed, "We also joked about Wales defeating England in the Six nations rugby. I also warned him and the Duchess it serves him right as they will be getting plenty of sleepless nights when the baby is born.
"He said if they have anymore than two it will serve him right."
So it looks as though the Duke and Duchess may well be thinking of expanding their family even before their first child is born!
During the event, Meghan also spoke sweetly about her fast-approaching due date with guests. Speaking to one, she excitedly revealed, "I'm a bit different to when I saw you last." before ending the conversation saying, "We're nearly there!"
It's thought that Meghan is due to have her baby around the end of April/beginning of May, after conversations the Duchess had with waiting royal fans at a recent engagement in Birkenhead.
Prince Harry and Meghan are currently preparing for an imminent move from their London cottage to their newly-renovated Windsor home, Frogmore Cottage, where they will raise their first child.
It's reported that construction work on the building has been ongoing for months, while the Duke and Duchess themselves are paying for an entire redecoration inside.
But before they leave the capital, Harry and Meghan appear pretty busy with royal engagements. Today, the Duchess surprised guests by turning up unexpectedly at a WE Day event that Prince Harry was at, appearing on stage at the end of her husband's speech.