Prince Charles thanks royal fans for their condolences with rare childhood photo of him with Prince Philip
Prince Charles thanked royal supporters for reaching out after Prince Philip's death.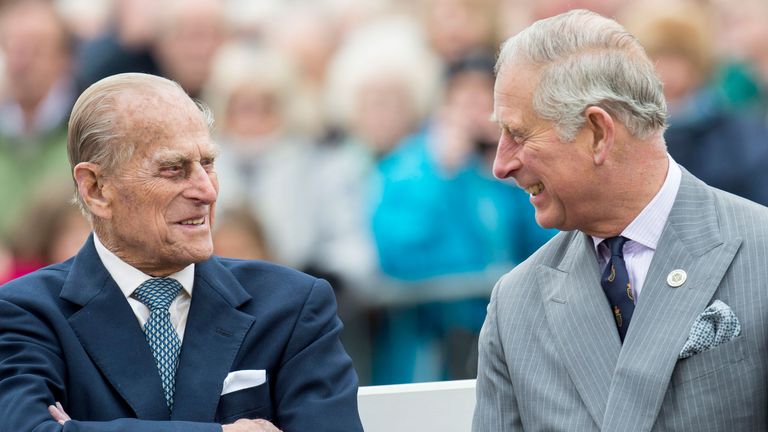 (Image credit: Photo by Mark Cuthbert/UK Press via Getty Images)
Prince Charles has thanked royal fans for sending their condolences in the wake of Prince Philip's death by reaching out with a special thank you card, featuring a rare childhood photo of him with his father.
Prince Charles has responded to royal fans who sent their condolences after the death of Prince Philip.
The special card features a vintage photo of the Prince of Wales and the Duke of Edinburgh in a motorboat together, when Charles was small.
This royal news comes after it was revealed that Princess Anne is set to be offered the chance to honor Prince Philip in a special way following his passing.
---
A royal fan, who received one of Prince Charles' touching cards, took to Instagram to share a photo of the special photograph that came with it.
In the social media upload, shared by @lise_m_d (opens in new tab), the card appears to feature the traditional black boarder and black crest used for letters sent during royal mourning.
The note from Prince Charles, printed in black lettering, reads, "The Prince of Wales thanks you so much for your very kind message of sympathy.
"His Royal Highness has been enormously touched by the many generous messages that have been received in recent days; they have provided great comfort at this very sad time.
"The Prince of Wales sends you his warmest thanks and best wishes."
Beside the poignant words a photo of Prince Philip and Prince Charles taken in 1958 can be seen.
The black and white photograph shows Prince Philip driving a motorboat during a river race in the Isle of Wight over six decades ago.
Young Prince Charles, who is believed to be around ten years old in the snap, is sat beside his father in the boat, looking towards the camera.
"Thank you card from Prince Charles. This is such a beautiful card, and it made me very emotional to read it. Will treasure this card forever," the Instagram poster, who shared the heartfelt royal token, wrote beside the upload.
Her Majesty the Queen has also sent her own letter of appreciation to those who reached out in support following the loss of Prince Philip.
The Queen, who spent the much of the last months of Philip's life with him at Windsor Castle, wrote to her subjects who paid tribute to her late husband.
Alongside a portrait of the Duke, Her Majesty penned, "I send you my sincere thanks for your kind words of sympathy on the death of my husband."
She then signed off the card with, "Elizabeth R".
The monarch also sent out a statement to the public in the days after Philip passed away as she celebrated her 95th birthday, expressing her gratitude for the kindness she received from her nation.
"My family and I would like to thank you all for the support and kindness shown to us in recent days," the statement read.
"We have been deeply touched, and continue to be reminded that Philip had such an extraordinary impact on countless people throughout his life."