The Stone of Destiny has arrived in London – find out its surprising history and the King's way of mitigating the controversy
The Stone of Scone has a difficult history for two countries in the United Kingdom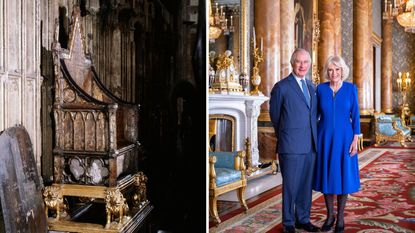 (Image credit: Getty)
When King Charles is crowned at Westminster Abbey on May 6, there'll be plenty of historic symbols and old traditions observed, including consecrated oils and legendary coronets. However, one of the more controversial historic artefacts that will play a role is lesser known by the public, and it's often referred to as the Stone of Destiny. The Stone has now arrived from Edinburgh castle ahead of the coronation, but why is it a contentious object?
The Stone of Scone – otherwise known as the Stone of Destiny – has made its way from Edinburgh Castle to London for King Charles' Coronation.
It was historically used to crown kings and queens of Scotland but was seized by Edward I in 1926 and taken to England – thus proving to have a bit of a tricky history for Scotland and England.
---
The Coronation is practically here, and London has been decked out with celebrations ahead of the weekend's festivities.
From Camilla making history as the first royal to be anointed in public to Hollywood icons like Tom Cruise being added to the Windsor Castle concert festivities, it's bound to be a weekend for the history books.
With anything as historic as a coronation, though, there are bound to be elements with controversial histories, as was seen in the choice of crowns to avoid contentious diamonds.
However, a rock of a more literal sense is set to be one of the more difficult elements for England's northern neighbors – and it's just landed in London.
What is the Stone of Destiny?
The Stone of Scone (pronounced as Scoon, not the type of scone you eat with jam and cream) is also known as the Stone of Destiny. It is an oblong block of red sandstone that has been used for centuries in the coronation of the monarchs of Scotland.
It's sometimes referred to as Jacob's Pillow Stone and the Tanist Stone.
One particular legend has it that it was the very stone that Jacob rested his head on in the Old Testament, though this has since been heavily contested.
How did the Stone of Destiny come to be in England?
In 1296, during the First Scottish War of Independence, King Edward I of England took the stone as spoils of war and sent it to Westminster Abbey, where it was fitted into a wooden chair – known as the Coronation Chair or King Edward's Chair.
This chair has been used by most British sovereigns since.
Edward I has the unfortunate nickname of the Hammer of the Scots, so the history of the chair doesn't promote the greatest of vibes.
To that end, in the 1328 Treaty of Northampton between the Kingdom of Scotland and the Kingdom of England, England agreed to return the Stone of Destiny back to Scotland. It never quite made it back, as rioting crowds prevented it from being removed from Westminster Abbey.
It wasn't for another six centuries that the stone was taken over by Scots again – albeit with a twist.
When King James VI of Scotland assumed the English throne as James I of England, he was crowned at Westminster Abbey on the Stone of Scone. For the next century, the Stuart nobility once again sat on the stone – but their coronations were all still in England.
It wasn't until 1996 that it was decided it would be given back to Scotland and it is now on permanent display in Edinburgh Castle, moved only for the historic coronation this weekend.
How is Charles including Scotland in the Coronation?
To prove he's set on unifying a modern Britain, Charles' Coronation will include a series of firsts, and one such first is aimed at balancing the histories of the different countries.
His service will be the first to incorporate other languages spoken in Britain, with a hymn set to be sung in Welsh, Scottish Gaelic and Irish Gaelic.
Jack Slater is not the Last Action Hero, but that's what comes up first when you Google him. Preferring a much more sedentary life, Jack gets his thrills by covering news, entertainment, celebrity, film and culture for woman&home, and other digital publications.
Having written for various print and online publications—ranging from national syndicates to niche magazines—Jack has written about nearly everything there is to write about, covering LGBTQ+ news, celebrity features, TV and film scoops, reviewing the latest theatre shows lighting up London's West End and the most pressing of SEO based stories.