Will Michael and Carole Middleton get titles when Prince George is King?
They'll be the first grandparents to a monarch without titles, if not...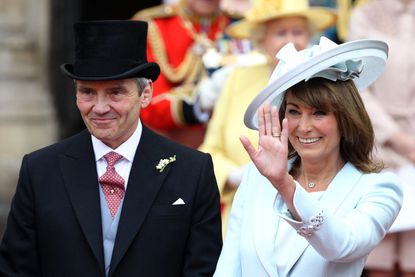 Since the royal wedding in 2011, there has been speculation about whether Michael and Carol Middleton would receive royal titles.
After Catherine and Prince William married in 2011, the royal couple became the Duke and Duchess of Cambridge.
However many have noted that the Duchess's parents, Michael and Carol Middleton have not yet received any titles from Queen Elizabeth – despite being thegrandparents (opens in new tab) of the future king.
From the time of Prince George's birth in 2013, there has been speculation over whether the Middletons would be given honorary titles in anticipation of their grandson becoming king in years to come.
MORE:'Why can't I stop watching this?' Royal fans are loving resurfaced video of Michael and Carole Middleton
So will Michael and Carol Middleton receive honorary titles from the Queen? Or will they simply stay as they are?
If they are not given any titles, the Duchess of Cambridge's parents will be the first ever grandparents of a monarch not to have titles.
It will certainly be a significant historical moment. The Queen's grandfather was the Earl of Strathmore and Kinghorne, while the future king, Prince William's grandfather on his mother's side was Earl John Spencer - and of course, his grandmother is the Queen. It follows a long line of tradition going back to the Tudors, with Anne Boleyn's father given an earldom before she gave birth to Queen Elizabeth I.
Internationally recognised expert on British royalty and titles, Marlene Koenig (opens in new tab) tells woman&home everything we need to know about the possibility of the Middleton's receiving titles.
What titles could the Middletons have?
Marlene explains that the titles we are wondering about are otherwise known as peerages. These are aristocratic titles bestowed by the Queen - which include titles such as duke, marquess, earl, viscount and baron.
Generally,Marlene says, "the title is given to a man. A wife shares her husband's rank, unless her rank is higher."
So presumably, the Middleton's could be given one of these titles.
However, as royal expert Christopher Wilson clarified in The Daily Telegraph in 2013, if Michael Middleton was to be given a royal title, it would be an earldom rather than a dukedom. As to named a duke would be "too much" and he would have to be "colossally rich" in order to maintain the title, Christopher says. It isconceivable that Michael Middleton could become an earl and if so, Carol Middleton would become a countess.
Do Michael and Carol Middleton need titles?
Queen Elizabeth doesn't give away titles to just anyone, and they normally aren't given to people who aren't blood royals.
This is because there are certain protocols in place surrounding titles - and sometimes, just a lack of titles to be given out in the first place. It's happened before - the Queen's youngest child, Prince Edward (opens in new tab) is the Earl of Wessex. He was the first prince since the Tudor times to be made an earl when he got married. It's expected that instead, he will take on the role of the Duke of Edinburgh - Prince Philip - when he dies.
Also, the Middletons are not involved in royal work supporting the Queen in any way. Although they are the Duchess of Cambridge's parents, they keep a relative distance from the lives of their royal half of the family and therefore, don't require titles for the work they do either.
It means that, according to experts, Michael and Carol Middleton also don't necessarily need royal titles just because of their relation to Prince George.
MORE:Is this how Princess Diana would have really felt about Prince Harry splitting from royal family? (opens in new tab)
Marlene explains, "It does not really matter that George's maternal grandparents have no titles because [Prince George] takes his rank, his right of succession from his father, not his mother."
If the Middleton's were given titles, the Queen could face criticism, Marlene says, because essentially, there's no real reason for the title. She explained to w&h, "If the Queen bestowed a peerage on Michael Middleton, there would be criticism as there is no real reason to create a hereditary peerage for him. Especially also, as it would then be inherited by his son."
It's likely that it could set a shaky precedent too, of bestowing titles on people who aren't actually members of the royal family.
But could the Queen give them honorary titles instead?
As such, Marlene confirms that Michael and Carol Middleton probably won't be given titles in any form.
"It's very unlikely that the Duchess' father would be given a hereditary peerage," she says, "As it's no longer the custom to give a hereditary peerage to anyone but a male member of the royal family (opens in new tab)."
For example, Prince William was made the Duke of Cambridge by the Queen on his wedding day, as he is of course already member of the royal family.
"The last hereditary peerage to a non-royal was the Earldom of Stockton and Viscount Macmillan in 1984." Marlene adds, noting also that none have been created since then.
So this means no titles for Carol and Michael Middleton at the moment. But will that change when Prince George is King? We'll have to wait and see..!
A digital health journalist with over five years experience writing and editing for UK publications, Grace has covered the world of health and wellbeing extensively for Cosmopolitan, The i Paper and more.
She started her career writing about the complexities of sex and relationships, before combining personal hobbies with professional and writing about fitness. Everything from the best protein powder to sleep technology, the latest health trend to nutrition essentials, Grace has a huge spectrum of interests in the wellness sphere. Having reported on the coronavirus pandemic since the very first swab, she now also counts public health among them.