'Why can't I stop watching this?' Royal fans are loving resurfaced video of Michael and Carole Middleton
So sweet!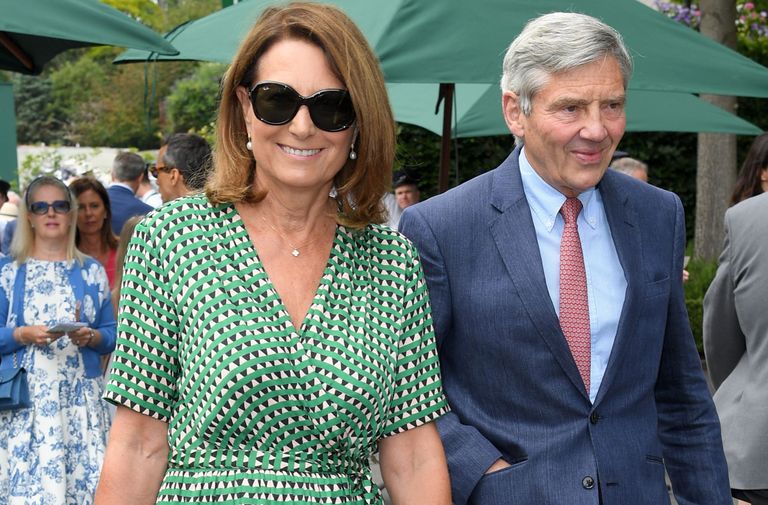 Outtakes from an old interview with Michael and Carole Middleton have resurfaced on social media, and royal fans can't stop watching!
The short clip was shared on a Middleton Family fan page on Instagram, showing the outtakes from their interview following Catherine's engagement to Prince William, filmed nine years ago outside their home near the Berkshire village of Bucklebury.
Alongside the video, the caption read, 'Throwback to Michael and Carole being the cutest couple and adorably nervous while making a statement after their eldest daughter's engagement to Prince William of Wales was announced on November 16, 2010.
'These outtakes are just the best ♥️'.
During the video, Carole and Michael seem slightly nervous about the attention they're getting, but still joke with the reporters.
One moment has particularly made fans chuckle – as one photographer suggests they should hold hands, Michael refuses because it's 'too cheesy'.
Fans were quick to gush about the clip, saying, 'Wow now we know where W & K get their relationship inspiration from. I love that Michael see holding hands for the interview as too cheesy, especially when he knows this video will go public 😂😍 settle romances are the best ones, because you treasure it privately with your loved ones 💕'.
Another said, 'Why can't I stop watching this?? 😂😂 they are so cute and nervous hahaha'.
A third added, 'This is so adorable! Love them'.
Others also spotted that Duchess Catherine has the same mannerism as her mum. One said, 'Seeing this video I noticed that Catherine walks just like her mom!'
Carole and Michael's statement at the time read, 'I would just like to say that Carole and I are absolutely delighted by today's announcement and thrilled at the prospect of a wedding some time next year.
'As you know Catherine and Prince William have been going out together for quite a number of years which has been great for us because we have got to know William very well. We all think he is wonderful and we are extremely fond of him. They make a lovely couple, they are great fun to be with, and we've had a lot of laughs together. We wish them every happiness for the future.'