Prince William reveals Catherine and his mother-in-law Carole Middleton love this popular BBC show
It's a BBC favourite!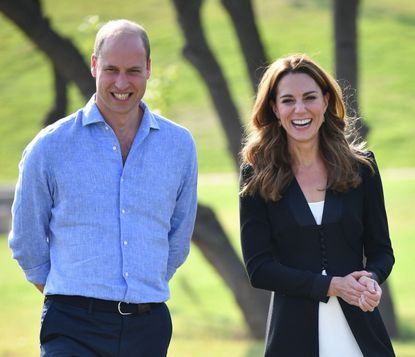 (Image credit: Getty)
Sometimes we forget that royals can be just like us - and that means, watching the same shows we all love.
And now, Prince William has revealed that his wife and mother-in-law are fans of a particular BBC1 entertainment show.
The show in question? The glittery Strictly Come Dancing!
The prince attended a charity gala on Wednesday night where he told stars of the show that his family were big fans.
Speaking to head judge Shirley Ballas and the show's host Claudia Winkleman, Prince William said he had even watched the show on a few occasions.
MORE:This chic dupe of Duchess Catherine's checked blazer will save you hundreds of pounds (opens in new tab)
The Duke of Cambridge said, "I have watched the show a couple of times. Catherine is a huge fan and my mother-in-law loves it."
He added, "Why does Claudia never dance?!", to which the presenter joked, "I'm too creaky!"
But Kate isn't the only member of the royal family to enjoy the programme.Like many other families in the UK, the Duke and Duchess of Cornwall are known to sit down on a Saturday night to enjoy Strictly.
It's previously been revealed that Camilla is a huge fan of the show, and has even visited the Strictly set a handful of times.
Prince William's revelation came at a gala for Centrepoint - a homelessness charity close to his heart.
The royal opened Apprenticeship House on Wednesday morning - a centre set to help young displaced people to live independently.
Prince William has been a patron of Centrepoint since 2005 - following in the footsteps of his mother, Princess Diana.
He told guests, "Visiting Centrepoint services with my mother made such a lasting impression on me as a child.And it still makes a lasting impression on me today."
He also praised the charity for providing homeless young people with accommodation.He added,"It might seem an odd thing to say at a milestone event such as this, but I hope that Centrepoint will not need to be around in another 50 years.
"It is upsetting that in 2019 we still have not managed to end youth homelessness, and more young people are being supported by Centrepoint than ever before.
"But it is reassuring to know that when young people are at their lowest point, Centrepoint's team are there to help."
Lizzie Thomson is a regular contributor to woman&home, and also contributes to Metro.co.uk, Ideal Home, Culture Trip, and Evening Standard, covering all things lifestyle.