The touching significance behind Meghan Markle's new ring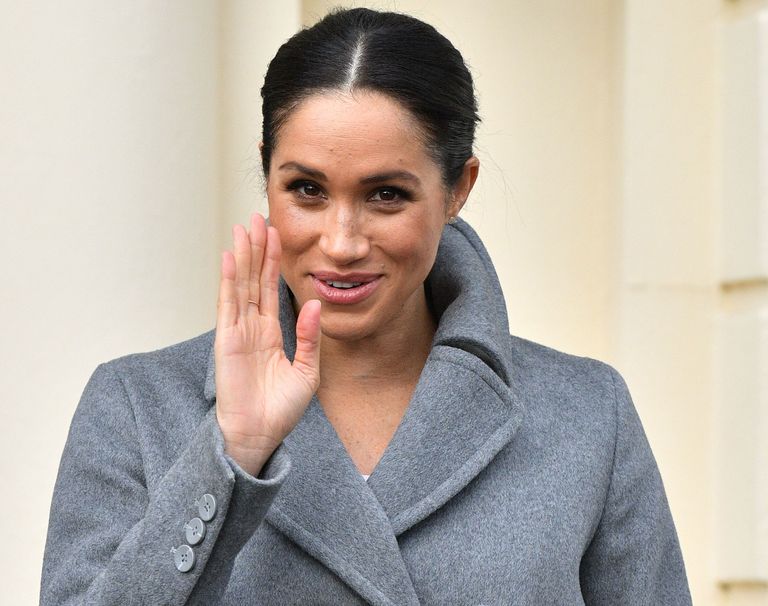 (Image credit: Rex)
The Duchess of Sussex is known for her elegant style, pairing classic tailored pieces with understated accessories.
And on a recent visit to the Royal Variety Charity's residential nursing and care home – of which the queen is a patron – royal fans couldn't help but notice that Meghan was sporting a brand new ring.
Worn on her right hand, the $440 (approximately £350) ring is from Turkish accessory label Kismet by Milka.
The 14k rose gold item of jewellery, which also boasts a sapphire setting, is part of the 'hamsa' collection, which also features necklaces and bracelets.
The Hamsa Hand – which contains an 'eye' at its centre just like the one featured on the ring - is an ancient Middle Eastern amulet that is said to bring its owners happiness, luck, health, and good fortune.
All the above can only be positive as she looks forward to a new chapter with her husband Prince Harry as they prepare to welcome their first child into the world.
Other potential meanings are that it wards off negativity, which may be apt considering the increasing scrutiny that Meghan will be under as she plays an ever-more prominent role in the royal family.
Speaking to the Daily Mail Australia about her line , Milka previously explained that she first began designing jewellery at the tender age of seven, and went on to hand-craft a collection of unique pieces which she sold in Turkey.
Years later she developed an A-list following and revealed that she was proud that the line was worn by "strong women".
She said, "I had a dream and I made it come true with hard work. Seeing Madonna and Beyoncé wear my designs, it is amazing to see strong women doing that - and that's what I want, to empower strong women."
Other celebrity fans of the brand include actresses Sarah Jessica Parker, Ruth Wilson, Naomi Watts and Julianna Margulies.
We can't wait to see what Meghan will be wearing next, and what hidden meanings could potentially be behind her fashion choices.