King Charles set to teach George, Charlotte and Louis to be 'unafraid of emotions' so they don't repeat his mistakes
King Charles reportedly doesn't want his grandkids to make the same mistakes he did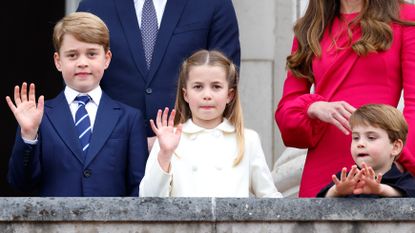 (Image credit: Getty Images)
King Charles is eager to teach his grandchildren some specific lessons as they grow up, so they do not repeat the same mistakes he made, a royal expert has claimed.
A royal historian has said that King Charles wants to make sure that his grandkids don't make the same mistakes he made in his life, what with grandson Prince George set to be King some day.
The newly-crowned monarch is believed to hope that Prince George, Princess Charlotte and Prince Louis grow up as "normally" as possible.
---
King Charles spent his whole life knowing he would some day take the throne and finally became monarch in September 2022, following the death of his mother, Queen Elizabeth II.
Having had his royal duty laid out for him since he was born, King Charles is said to be keen to make sure his grandkids, George, Charlotte and Louis, don't feel the same pressures and make the same mistakes as he did.
With Prince George second in the line of succession, with Princess Charlotte in third place and Louis in fourth, His Majesty the King wants the young Wales trio, who live at Windsor's Adelaide Cottage, to have a "normal" upbringing.
Appearing on Channel 5 documentary The Fab Five: The King's Children, royal expert Professor Chandrika Kaul explained, "I think King Charles is very keen that his grandchildren don't make the mistakes that I think he feels he made, particularly."
Professor Kaul added that Charles hopes that his grandchildren can grow up to feel in touch with their emotions, enjoying a childhood that is as close to normality as possible.
"What I think he wants to do is try and help these young grandchildren grow up in as normal a way as possible and create more fully rounded human beings who are unafraid of their emotions," he said.
Meanwhile, royal author Tom Quinn has pointed out that Prince William and Princess Catherine are making sure that their children's upbringing is quite different to what Charles experienced.
"I think what William and Kate are really trying to indicate is that they will be involved much more with their children, especially their boys," he told the Express.
"So they will always have the example of Charles, who's been very public about being sent to Scotland to this dreadful school to make a man of him. That's all gone, there's no way that William and Kate will do something like that with their children."