Kate Middleton's indulgent bakery treat after the school run might surprise you
Kate Middleton has been known to treat herself to something indulgent and delicious while on the school run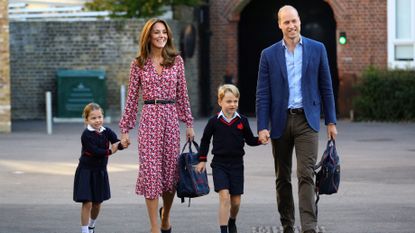 (Image credit: Getty Images)
Kate Middleton's indulgent bakery breakfast that she has reportedly been known to treat herself to while dropping the Cambridge kids off at school has been revealed.
Kate Middleton is reportedly partial to a certain bakery treat when she drops Prince George and Princess Charlotte off at school in London's Battersea.
The Duchess of Cambridge will no doubt miss her sweet morning snack when the Cambridge children start at their new school following the family's move to Adelaide Cottage in Windsor.
This royal news comes after it was revealed that Kate and William will face another difficult decision for Prince George
---
Kate Middleton's diet is known to be healthy and nutritious, with dishes like oatmeal, vegan salads and fish and vegetables being staples for the Duchess.
But the future Queen Consort doesn't shy away from a take-away or sugary snack either, reportedly loving a night in with Indian food or a particular purchase from a bakery nearby to Prince George and Princess Charlotte's school.
Prince George and Princess Charlotte have been pupils at Thomas's Battersea Prep School since they were both four-years-old, with the school run from Kensington Palace to the South London institution reportedly being a "nightmare" part of the Cambridge family's routines.
Now, it's been claimed that Kate treats herself to a trip to the nearby branch of Gail's bakery in Battersea when she needs a post-drop off pick-me-up, with a staff member from the coffee shop having shared details of her order.
Dominika Lipiec, a customer assistant at Gail's, says that a Chocolate Brownie Finger costing £2.40 is Kate's snack of choice.
Recalling the times Kate, George and Charlotte have popped into the bakery, Dominika told MyLondon, "One time, I remember a parent from the school came in and they were just so excited that their child was in the same class as George. We have seen Kate here, twice at least.