Kate Middleton reportedly wants a fourth child for a very special reason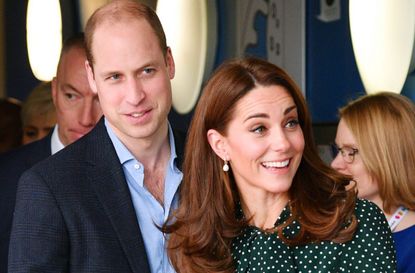 Kate Middleton is said to have plans to have a fourth baby, and the reason behind it is so sweet!
The mum-of-threewelcomed her youngest child, Prince Louis, last April, but royal fans are already convinced Kate and Wills will want at least another baby to complete their brood.
Betting intelligence sitebookmakers.tvhave recently revealed thatodds on Kate and William having a fourth baby are at an all time low, which suggests a lot of people think another little Cambridge is on the way.
Read more:The hidden meaning behind Catherine's statement green dress
And while it's unlikely Kate is already pregnant – as she's suffered fromhyperemesis gravidarum during her previous three pregnancies, which would likely force her to cancel her royal engagements – reports suggest she does want another baby and for a very special reason.
As George and Charlotte have become a little duo, she wants Louis to have the same relationship with another sibling.
A source told New Idea, "Kate has seen the bond between George and Charlotte and thinks it would be lovely if Louis had a sister closer to his age.
"Kate is doing things her way but William has always supported her and will do anything to make her happy; that is a promise he made before they married."
Another reason why Kate is said to want more babies is because she reportedly prefers family life to royal duties.
The source added, "he simple truth is that Kate loves being at home looking after her kids.
:She likes being a royal and meeting the public, but she wants to put off heavy royal duties for as long as possible and being a mum gives her the perfect get-out.
"It may seem a bit selfish, but Kate feels the most important thing is to have a happy marriage and support her husband.
"She looks at what happened to Princess Diana and Fergie and she wants to make sure she provides a firm foundation and family life for her husband and children."
From our sister site, GoodToKnow. Written my Marianna Cerqueira