Kate Middleton and Prince William recreate their uni days with cocktails at trendy bar
Kate Middleton and Prince William went head-to-head in a cocktail shaking contest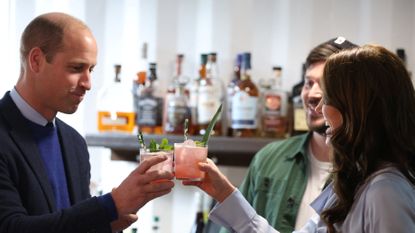 (Image credit: Getty Images)
Prince William and Kate Middleton went head-to-head in a cocktail making race during a visit to Northern Ireland on Thursday.
The day after Kate Middleton appeared in Surrey for a solo engagement to a maternity unit, the Prince and Princess of Wales arrived in Belfast for an official visit to Northern Ireland.
During the visit, the future King and Queen Consort laughed as they rustled up cocktails at a bar in the city, clinking their glasses as they took a sip of their creations.
In other royal news, the unique meaning behind Kate Middleton's white gold diamond drop earrings has been revealed.
---
During the visit, which is their first to Northern Ireland since being appointed the Prince and Princess of Wales, the royal couple, who reside at Adelaide Cottage in Berkshire with children Prince George, Princess Charlotte and Prince Louis, headed to Trademarket, a new outdoor street food market in Belfast.
As they visited a bar in the market, William and Kate were given the chance to mix up some cocktails in an unexpected challenge.
A video clip of the boozy activity shared on the official Prince and Princess of Wales' Twitter account shows the duo pouring, mixing and shaking their cocktail ingredients with smiles on their faces, before clinking their glasses and taking a sip of the fruity mixture.
The caption simply read, "Who did it better?"
Royal fans were quick to chip in to share their thoughts on social media, praising Catherine and William on getting stuck in and having fun during their royal work day.
"I think it's a tie but can we point out just how down to earth these two are? They aren't stuffy nor do they ever carry themselves like they are above you. These two are the real deal," one wrote.
Another chipped in to agree, adding, "Love Will and Kate when they do things like this!"
"Absolutely love the fun competitions yous two have, but sorry Prince William Princess Catherine won this one. Wish I could've tasted them both though," one more added.